Did you know? : Captain Sturt's cannon
The Royal Geographical Society of South Australia owns a small cannon that is reputed to have belonged to Captain Charles Sturt and was then in the possession of a famous river captain, Captain George Johnston of Goolwa. Captain Sturt is alleged to have had the cannon in his possession on his epic journey down the River Murray in 1829-30 and then given it to a Mr Williams, owner of a sheep station at Gol Gol (near Wentworth).  Unfortunately, there is no record of the cannon in the official list of equipment taken on Sturt's journey and no mention of it in Sturt's personal diaries.
The cannon was referred to in 1853 when Francis Cadell's pioneer paddle-steamer, the Lady Augusta, called at Williams' station. She was welcomed by an attempt to fire the cannon. A passenger on the Lady Augusta recorded the story that the cannon belonged to Sturt in his journal.
When the Williams family moved away from the river in the 1860s, the cannon was presented to Captain George Johnston, as he was a collector of cannons. When Johnston died, his widow donated the cannon to the Royal Geographical Society of South Australia.
There has been some speculation that the cannon belonged not to Captain Sturt, but to Major Thomas Mitchell, but Mrs Johnston dispelled this theory, as she knew that her husband had also acquired Mitchell's cannon and that it had been blown up when Johnston tried to fire it.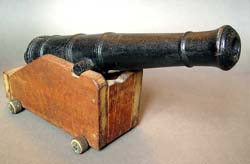 This item is reproduced courtesy of Royal Geographical Society of South Australia Inc. It may be printed or saved for personal research or study.
Use for any other purpose requires written permission from Royal Geographical Society of South Australia Inc. and the State Library of South Australia. Further information may be found at Permission to publish.
Further reading
Whitaker, Chris. 'Captain Charles Sturt's cannon?', Proceedings of the Royal Geographical Society of Australasia, South Australian Branch, vol. 79 (1978), p. 38-42