Centenary of Anzac 1914 to 1918
The evocative photographs in this exhibition are from two albums held by the State Library.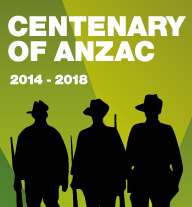 Twenty-five year old carpenter, Harold Vynne Woods, enlisted at Morphettville on 22 September 1914, joining the 4th Field Ambulance. After promotion to Sergeant he was selected to attend No. 5 Officers' Cadet Battalion in England. Upon qualifying for a commission he was promoted to Lieutenant. Woods was wounded in France in May 1918 and returned to Australia in October 1918. After the war he lived at Victor Harbor. Harold Woods died on 20 December 1993, aged 104.
The second album was donated to the State Library some years ago on behalf of the Woolford family. Unfortunately we do not know what member of the family served at Gallipoli or who took the photographs.
Also on display is the painting of Lt Ralph Claridge entitled For the Empire : a wounded Anzac.
Search Treasures
Use the keyword search above for a quick search, or use our advanced search.
Current highlight
James S. Pearce, Kapunda Football Club, 1879, B 7437
View the Football in SA exhibitions.
Stay in touch
Subscribe to our e-news and stay in touch with the State Library of South Australia's news and events.