The Wall itself is a 'treasure', with 40 individual panels featuring South Australian natural materials and industries. Materials used on the wall panels include abalone shell, bluestone, coal, cattle hide, copper, green glass, gold, granite, grapevine prunings, iron ore, lead, limestone, opal, quartz composite, salt, silver, slate, steel: car duco, talc, wheat, wool and zinc. The Treasures Wall is 24 metres long and 2.5 metres high, and is located on Level 1 in the Spence Building.
What is a 'treasure'?
Rarity, age, monetary value, association with particular people, places and events, and aesthetics, are all factors which contribute to defining an item as a treasure. However, the answer to this question lies very much in the eye of the beholder-individuals will identify a 'treasure' because a certain material has particular appeal and significance. The variety of materials selected for exhibition aims to provide samples of treasures from different perspectives.
Among previous exhibited treasures are the exquisitely illuminated thirteenth century Antiphonal, a first edition of George French Angas's South Australia illustrated, CH Smith's hand-drawn sketches of the innovative stump jump plough, and a striking costume design by Thelma Afford. Spanning many centuries, and sourced from local to global origins, the treasures range from rare books to the more unexpected-nineteenth century children's clockwork toys, and the Magarey Medal awarded to Bob Snell in 1929.
Caring for treasures
When selecting items for display, preservation issues are of principal concern as many of the materials are fragile and vulnerable to light, temperature and humidity. The Library's Preservation team strive to maintain the most suitable exhibition environments and storage conditions to support the long-term survival of collection materials. Limiting the display period by means of rotation of items assists the preservation process.
The Treasures
Abalone shell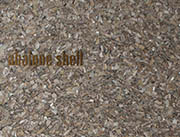 Abalone is a marine mollusc with a bowl-like mother-of-pearl lined shell.
The meat of the mollusc is eaten and the shell used to produce decorative objects.
Abalone is found in greatest numbers in South Australia off the western coast of the Eyre Peninsula at depths of 12 to 30 metres.
There are two varieties of abalone caught in South Australia-the greenlip and the blacklip.
Read more about Abalone.
Bluestone
Bluestone is a term that describes a sedimentary rock, usually siltstone, used for building and paving. It has a distinctive blue/grey colour.
Most South Australian bluestone now comes from Kanmantoo and Wistow.
Bluestone was a popular construction material in the late nineteenth century South Australia and it became characteristic feature of the public, commercial and domestic buildings of the time.
Read more about Bluestone.
Cattle hide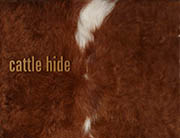 Cattle hide is chemically treated to be cleaned, to arrest decay, spoiling and shrinkage and to preserve its natural colour and patterns or to be dyed for the desired effect. This process is known as tanning.
The process consists of several stages including curing, treatment with enzymes to smooth the skin, tanning with minerals or tannin and stretching and rolling.
The tanning industry was established in South Australia by the 1840s.
In the early years of the industry Australian native trees, such as wattle, provided the tannin for the process.
Coal
Coal is mostly composed of carbon, hydrogen and oxygen.
It is formed by the build up and disintegration of plant-derived organic remains.
The decomposition of plant material and the accompanying biochemical reactions results in the creation of peat which when exposed to heat and pressure becomes coal over time.
The main uses of coal are as a fuel for the generation of electricity and for the production of coke, which is used in steel and iron manufacturing.
Coal was first discovered in South Australia in 1885 near Pidinga in the State's west and subsequently found throughout the State.
Coal is now mined at Leigh Creek in northern South Australia and primary used locally for electricity production.
Read more about Coal.
Copper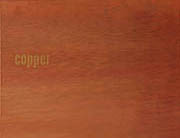 Copper is a highly conductive (of both electricity and heat) metal which is used extensively in the electrical industry to make wire and cable and also in the car manufacturing, construction and information technology industries.
Copper can be found in its natural state but is chiefly mined as the primary sulphide chalcopyrite.
Copper is resistant to corrosion and can form alloys with other materials such as tin and zinc (to form bronze) and zinc (to form brass).
The discovery of copper deposits in South Australia contributed to the early economic development of the State. These initial discoveries were made at Kapunda (1842), Burra (1845), Kanmantoo-Callington (1846), Wallaroo (1859) and Moonta (1861).
Wallaroo, Moonta and Kadina are now known as the 'Copper Triangle'.
Cornish miners migrated to Australia to work on the copper mines in this area and their traditions added to the social and cultural history of the State.
Read more about Copper.