Conservation | Reformatting | Collection Maintenance | Collection Storage | Preventative strategies | Exhibitions | Education | Projects and publications
The Preservation team has overall responsibility for preserving and protecting the State Library's archival and published heritage collections for the benefit of current and future generations.
Preservation is a broad umbrella term and its scope wide-ranging. It includes conservation - the detailed treatment of individual items - as well as broader strategies for protecting and housing collections, and producing surrogate copies such as microforms and photographs.
The team faces the daily challenge of preserving information in diverse forms from paper and parchment to photographs, moving pictures, sound recordings, videos, CDs, DVDs, diskettes and items that originate purely in a digital format.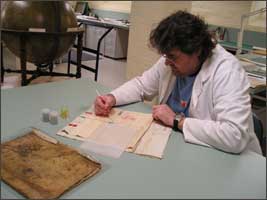 The Conservation staff provide specialised treatments for individual collection items. Conservation treatments include carefully flattening heavily creased old documents, repairing leather binding, and building special supports and boxes to fit fragile items and mounting items for exhibitions.
The Conservation team plays a key role in:
conducting collection surveys to identify preservation needs
monitoring environmental conditions in collection storage areas
implementing integrated pest management strategies
preparing, installing and condition monitoring of exhibition items
coordinating the library's response to any disaster that may affect the collections
delivering education programs on preservation awareness
The team works closely with Artlab Australia. Specialising in conservation services, Artlab provides the more complex treatments for State Library materials, including those featured in exhibitions.
Artlab also conducts professional development training for Library staff.
Reformatting, the copying of information from one format to another, is another strategy that ensures the long-term preservation of the State Library's published and archival heritage collections.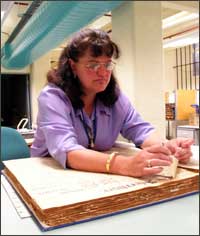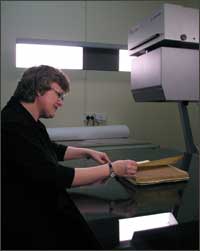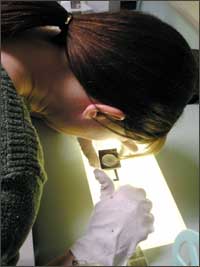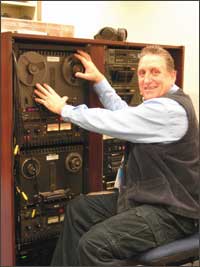 Materials are reformatted to preserve the fragile originals, while copies or surrogates are created for use. For example, microfilm and digital copies may be created and the original materials stored securely.
The Reformatting team uses a range of technologies to produce reformatting products and services that meet national and international standards, including:
microforms
digitisation
photography
sound recordings
Members of the team also organise the outsourcing of various reformatting services, such as the production of preservation film or video copies from original motion pictures.
Microfilming is internationally regarded as one of the best long-term preservation strategies with a life expectancy of up to 500 years. In the future it can be easily read with the help of a simple magnifying glass. It is also possible to digitise from microfilm.
In comparison digital information is transient as a result of rapid changes in software and hardware. Examples include videodisks and eight inch floppy disks which are now museum pieces. This means that digital information requires an investment of frequent updates to ensure its longevity.
The team's expert microfilming unit undertakes a range of state and national projects and has recently acquired a state of the art hybrid camera that digitises and microfilms in one sequence. The team has recently undertaken work for the National Library to produce microfilming training materials for the Asian Pacific Region.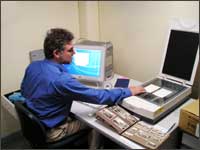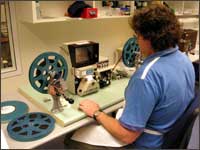 Reformatting staff also digitise key pictorial collections to provide a wider circle of users with better access to the Library's unique pictorial collections. In turn, these digital images contribute to the national collection of digital images available through Picture Australia.
In the challenging field of digital preservation the Library contributes to the national PANDORA archive. Pandora is an archive of selected Australian on-line publications, such as electronic journals, organisational web sites, government publications and ephemera. The State Library is responsible for selecting and cataloguing South Australian Internet sites to preserve these websites and other South Australian digital publications.
Other reformatting strategies include conventional photography and sound recording - for example, creating use copies of oral history recordings for customers.
The Reformatting Team also provides copies of collection material for sale, such as photographs in print or digital form, and undertakes cooperative projects and 'fee-for-service' work.
The Collection Maintenance team is responsible for providing services which relate to the everyday 'care and repair' of collections.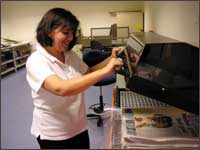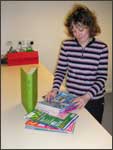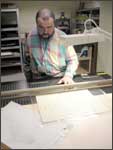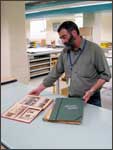 These services include repairing torn pages, protecting maps and posters in folders, and shrink-wrapping fragile newspapers.
The Collection Maintenance team also:
provides collection housing such as boxes for pamphlets and sets of magazines
manages the outsourcing of the library's book binding needs
monitors collection use, growth, storage and repair needs
manages reorganising and moving of collections
coordinates searching for missing items
The Collection Maintenance team also carries out the day-to-day retrieval and reshelving that supports the State Library's information services.