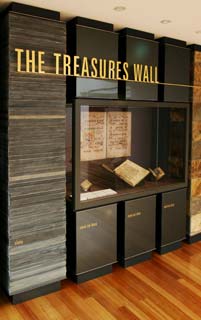 This website will be decommissioned in late 2017.

Treasures of the State Library in the digital form are now available via our Digital Collections website.

Come and visit our Treasures Wall exhibition.
 
The Treasures Wall exhibition space showcases historical and contemporary materials drawn from the collections of the State Library of South Australia. It celebrates the remarkable depth and diversity of the collections by presenting a selection of items drawn from the wealth of Library holdings, including rare books, manuscripts, archival materials, artworks, artefacts, photographs, and printed ephemera. Ranging from an Akkadian Dynasty clay tablet from the ancient world, to recent 'Adelaide Alive!' Australian Formula One Grand Prix memorabilia, these objects reflect the richness of the State Library's collections. Exhibitions are also available online:
These exhibitions provides a unique opportunity for visitors to glimpse resources that have largely been 'hidden treasures'. The Treasures Wall displays around 20 of the Library's treasures at any time within preservation requirements and may be viewed free of charge during Library opening hours.
The materials displayed comprise only a fraction of the items held in the State Library. Exhibits demonstrate the Library's key role in collecting, preserving and providing access to the community's cultural heritage.
The Treasures Wall exhibition has been made possible through the generous support of numerous private and corporate sponsors.
Did you know the Treasures Wall area is available for hire?
Read more about venue hire at the State Library of South Australia or view venue information for the Treasures Wall.