Conservation | Reformatting | Collection Maintenance | Collection Storage | Preventative strategies | Exhibitions | Education | Projects and publications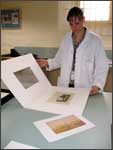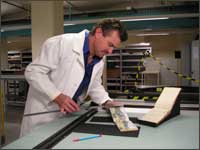 Preservation staff play a key role in supporting the Library's exhibition program-both within the Library and externally.
Conservation staff are responsible for checking the condition of items prior to exhibition or loan, and flattening, repairing and stabilising items. They also prepare supports and mounts for exhibition items and lead the Library's exhibition installation team. Conservation staff also assist in monitoring the condition of exhibition items.
Reformatting staff are responsible for providing copies such as digital and conventional photographs, film clips and sound recordings, which add extra dimension to exhibitions.
Artlab Australia has worked closely with Preservation staff to provide training, and advise on preparing, mounting, installing and managing the exhibition of collection items. Artlab also undertakes specialised and more complex treatments of exhibition items such as those in the Treasures Wall.
The team has a special focus on education programs to promote awareness about preservation of Library collections to staff and the general public.
These programs include school holiday programs, and sessions for special interest groups. Many of the sessions are run in partnership with Artlab Australia.
Projects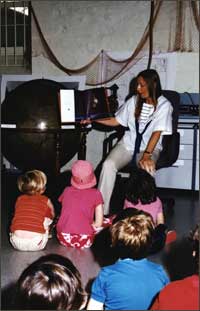 The Preservation team works cooperatively at a state and national level to ensure the preservation of cultural heritage.
Funded by the National Library, the team has recently completed two major co-operative projects to microfilm the South Australian newspapers SA Truth 1941-1964 and the Yorke's Peninsula Plain Dealer 1895-1926.
Current partnerships with public libraries and other organisations have facilitated the microfilming of further titles. Cooperation with Mount Gambier Public Library and the Border Watch Newspaper has enabled microfilming of the Border Watch 1985-1986. Port Adelaide/Enfield Public Library has made possible microfilming of Northern Suburbs Weekly 1952-1961 and the Northern District Courier 1925-1927.
The Reformatting team has also recently undertaken work for the National Library to produce microfilming training materials for the Asian Pacific Region.
Staff also digitise key pictorial collections to form part of the national collection of digital images available through Picture Australia.
The State Library contributes to the national PANDORA archive of selected archive of selected Australian on-line publications, such as electronic journals, organisational and government sites.
Several projects are also undertaken in line with national preservation strategies. For example, as part of the National Strategy on Cellulose Acetate, staff are working on a major project to copy all acetate microfilms onto a stable polyester film-base, rehouse them in 'archival' storage containers and relocate master copies to the National Library 's cold storage vault.
A smaller program to progressively stabilise and copy 'at-risk' acetate-based South Australiana films and videos onto professional Betacam video is continuing.
Library staff foster the discussion of professional microfilming issues through the international listserv Microlink-l jointly owned with the National Library of Australia.
Publications