About the wall - S to Z
Salt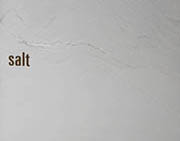 Common salt (sodium chloride) is one of the most widely used substances in the world.
Major uses of salt are food preservation and flavouring, leather tanning, de-icing, water softening, dye manufacturing and paper production.
Salt is also used in the making of soda ash, caustic soda and chlorine which are all used extensively in the production of other chemicals and a variety of manufacture processes.
Salt is found in sedimentary deposits all over the world, but the largest source is seawater. Most salt is harvested by the evaporation of seawater in the sun.
In South Australia, salt is produced by solar evaporation of seawater and of saline lake water.
There are salt fields at Dry Creek, Price, Lochiel, Lake MacDonnell and Whyalla.
Read more about Salt.

Silver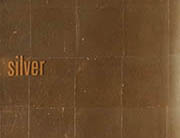 Silver is a soft, malleable precious metal which tarnishes with exposure to air.
It is an excellent conductor of heat and electricity.
Silver is sometimes found in its natural state, but is most commonly acquired as a by-product of processing of lead, zinc and copper ores.
Silver has been used for coins and decorative purposes for centuries but its current largest use is in photography. Silver halide salts darken when exposed to light on photographic plates, prints and flim.
Other applications are mirrors, medical and dental uses, electronics and batteries.
Most South Australian silver is mined at the Olympic Dam Mine in the State's north.
Read more about Silver.

Slate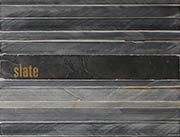 Slate is a fine-grained rock, comprised of thin, flat sheets of stone.
It is formed by the compression of mud stone.
It is used for paving, walling, roof tiles and, in single sheets, for the surface of billiard tables.
South Australia's slate quarries are located at Spalding, Jones Hill in the northern Flinders Ranges, Willunga and Mintaro-the Mintaro Slate Mine was established in 1856 and is one of the longest continuously operating quarries in Australia.
Read more about Slate.

Steel: car duco

Steel is a form of iron. Iron ore is smelted, producing pig iron, which is processed to remove impurities and reduce its carbon content to become steel. Iron ore is mined throughout South Australia, particularly around the 'Iron Triangle' towns of Port Augusta, Port Pirie and Whyalla.
Car bodies are constructed of steel.
The automotive industry is the largest single industry in South Australia and the State's biggest employer.
Talc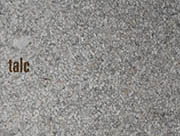 Talc, a hydrous magnesium silicate, is a non-abrasive and soft mineral. It is inert and easily ground into a silky white powder.
It has applications in the paper, paint, cosmetics, plastic, ceramics and pharmaceutical manufacturing industries.
In these applications talc acts in a variety of ways such as a whitener, a filler and an absorbent.
Talc is found in three main areas of South Australia-the Adelaide Hills, the Flinders Ranges and Mount Fitton in the Flinders Ranges.
Read more about Talc.

Wheat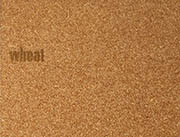 Wheat is the grain of a cereal grass of the genus Triticum.
It is an extremely versatile grain used in many products-for example, European style breads, Middle Eastern and Indian flat breads, pasta, cous cous, noodles, snack foods and baked sweet goods such as pastries, cakes and biscuits.
Wheat is South Australia's main grain crop.
The wheat growing regions of South Australia are the Eyre and Yorke Peninsulas, the Murray Lands and the State's North.
Read more about Wheat.

Wool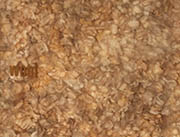 The wool industry was one of the earliest industries established in South Australia - the South Australia Company having imported pure breed Merinos from Saxony in Germany in 1836.
Nowadays, the primary sheep breed in South Australia is the South Australian Merino, an Australian strain of the breed. It is able to travel for long distances to water, so is well suited to the arid climate of the State.
The South Australian Merino is also a large breed and its wool is thick, therefore the yield of wool is high.
The major sheep farming areas of South Australia are the Eyre Peninsula, the South East and the North of the State.
Sheep are sheared of their wool from late winter to spring, usually August to November. In the South East, however, shearing also occurs during February and March.
Zinc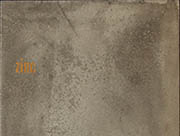 Zinc is a brittle metal, primarily mined as sphalerite which comprises approximately 67 per cent zinc.
Zinc is the third most widely used non-ferrous metal. Its primary use is to galvanise steel to prevent rusting.
It is also used in rubber, sunscreen, soap, cosmetics, fertilisers and batteries.
Zinc comprises part of the alloys brass (zinc/copper), bronze (zinc/copper/tin) and nickel silver (zinc/copper/nickel).
Zinc has been found throughout the State and is currently mined at mines such as Menninnee Dam, west of Port Augusta, and Eukaby Hill, north-east of Port Augusta.
Read more about Zinc.

With thanks for assistance to Michael Ramsey, Stone Institute of Australasia.
Search Treasures
Use the keyword search above for a quick search, or use our advanced search.
Current highlight
James S. Pearce, Kapunda Football Club, 1879, B 7437
View the Football in SA exhibitions.
Stay in touch
Subscribe to our e-news and stay in touch with the State Library of South Australia's news and events.