Decline and passing 
By the 1950s road transport was taking over the work of the mosquito fleet, just as in the late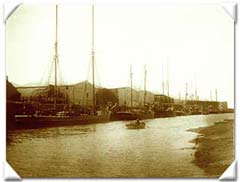 19th century rail had taken cargo from a number of the ports. Bulk handling of grains and ores also impacted heavily on the ketch trade. 'From a maximum of about 70 of these small vessels trading out of Port Adelaide at one time ... by 1960 there were only about 20 of the ketches and schooners left in South Australia' (Gillespie page xix).
Falie and Nelcebee were the last active trading ketches, serving Kangaroo Island out of Port Adelaide until 1982. Nelcebee is now owned by the South Australian Maritime Museum, and Falie was restored for the South Australian 150th anniversary celebrations in 1986, working as a tall ship charter vessel beyond that date. Annie Watt, the last of the wooden ketches to be active in South Australia is also owned by South Australian Maritime Museum.
As South Australia lacked good stands of suitable timber many of the ketches owned and operated in the state were built elsewhere, notably in Tasmania and New South Wales. However some boats were built in South Australia: the Alice was built in Port Lincoln in 1839 and traded between there and Port Adelaide: her timbers however were brought out from England. The Alpha was built in Port Adelaide in 1842, as was the Lotus in 1874 and Betty Joan as late as 1933. James Gillespie's Traders under sail should be consulted for more information.
The mosquito fleet of ketches, cutters and schooners and its contribution to the development of South Australia should not be underestimated. Many of these small vessels had long working lives and carried vital provisions and unprofitable cargo. They were crewed with minimal numbers of men whose lives were hard and fraught with the dangers of small boats in big seas. Just as the large graceful windjammers passed, so too did the tough little boats that for so long were the lifeline for the distant reaches of our coast.
Further reading:
Parsons, Ronald, Ketches of South Australia: a record of small sailing ships on the coast of South Australia, 1836-1970 Murray Bridge, S. Aust.: Ronald Parsons, 2005
Parsons, Ronald, Southern passages: a maritime history of South Australia Netley, S. Aust.: Wakefield Press, 1986
Gillespie, James, Captain Traders under sail: the cutters, ketches and schooners of South Australia Largs Bay, S. Aust.: J. Gillespie, 1994
Sexton, R. T. Falie: portrait of a coastal trader Port Adelaide, S. Aust.: Falie Project Ltd., 1985
Thiele, Ron N., Ketch hand: the twilight of sail in South Australian waters Portland, Vic.: Main'sle Books, 1987
Websites: