Shipbuilding in South Australia - late nineteenth century
Late 19th century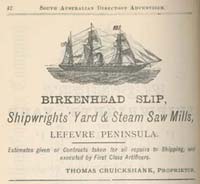 In the South Australian Advertiser for 12 August 1880 shipyards along the Port River were described as follows, beginning with Fletcher's yard:...'there are two slips equal to any emergency, with shops, sheds, storerooms, and machine departments, containing appliances of all kinds for shipbuilding and repairing.'  Next along was Playfair's yard where the observer can see '...the model of a new steamer...for the Cowry Fishing Company.  She is to be 101 feet over all...'  Henry Chant's yard was next...'where some very pretty dingeys in an advanced state show the artificer has not lost his cunning, and where may be seen the main timbers of a new cutter destined to carry the mails between Kangaroo Island and the mainland.'  William Taylor's yard was next:  he was the former superintendent of the Government Dockyard, but set up his own business in 1877. '...the Xanthe was Mr Taylor's first success, and year after year he has improved on his original designs.'  Taylor at that time had two jobs in hand - a yacht for the Commodore of the South Australian Yacht Club, and a refit of the Eleanor.  The article concludes 'The yards referred to above employ a large number of men, and there is every prospect of their continuing to do so.'  However the reporter overlooked the Government Yard, which according to The South Australian Register of 21 April 1880 had undergone some changes recently but had No. 6 dredge under construction. This dredge, apart from the engines and boiler, was to be built entirely at the yard and was destined for work at Port Augusta.
One of three barges to work with the dredge was also under construction at the yard. In 1898, this yard is still building dredges and barges, but had diversified to produce pipes and taps for the waterworks and parts for the Telegraph Line and roofing for the railway yards. Such diversification would be a future feature of Adelaide's shipbuilding yards.
There was expansion on the River Murray too: the Landseer Company commissioned a floating dock to service their paddle-steamer fleet. This was not a success, and was eventually  towed to Mannum in 1876 and installed in an excavation on the river bank and used as a dry dock.