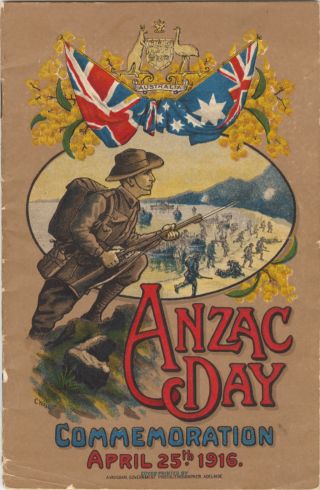 War leaves a profound emotional legacy. For those who served in theatres of war, there are the memories of extraordinary experiences shared with comrades. For others there is gratitude for and pride in the deeds of those who served. And for the entire community there is the grieving for those whose lives were lost or badly damaged. One response to these emotions is participation in the ceremonies of remembrance, which today are often associated with civic monuments.
The Australian War Memorial in Canberra is the most significant of Australia's memorials. The Memorial developed from a collection of personal and official records, photographs, and battlefield relics collected from the First World War. Today the Memorial commemorates each of the wars in which Australia has participated.
Here in South Australia, cultural institutions, such as art galleries, museums and libraries are important repositories for collections of war related material. The State Library's published and archival collections are a rich resource of material commemorating contributions in times of war.
Commemoration: Anzac Day
Commemoration: Memorials and monuments
Download the State Library of South Australia's Walking Tours app to do self-guided tour of War Memorials of Adelaide or view the images from the tour in our Flickr album.
Visit the RSL Virtual War Memorial for details of people, memorials, conflicts, units, places and cemetaries.
War gives rise to a variety of forms of art: the works of the officially commissioned war artists, poster art used as propaganda both for and against the war effort, the drawings and paintings of those involved in action, as well as reflections on war by civilian artists.
Art: Experiences of war
Art: Official war artists
Art: Poster and postcard art
War stirs profound emotions, which people seek to express through their writing. In War: Australia's creative response, the books (both fiction and non-fiction), drama, poetry, propaganda essays and screenplays inspired by war are surveyed.
Poetry flourishes during war, and the State Library's collection of published works and archives has a large body of works, many written by individuals not seeking their publication.
Literature: On the homefront
Literature: On active service
Literature: By veterans
Music often takes on a patriotic flavour in times of war.