Conflicts : United Nations Forces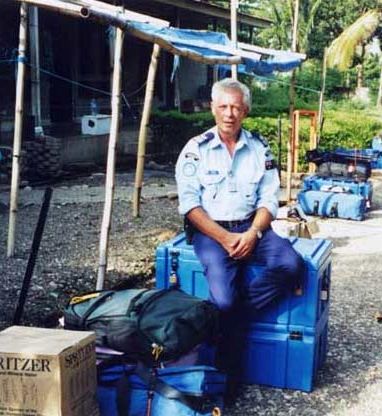 The United Nations (UN) is an international organisation, established after World War Two, to maintain peace and security throughout the world. The UN also seeks to ensure adherence to international law and protect fundamental human rights. Australia was a founding member, and since the late 1940s has been involved in many peacekeeping missions around the world as part of the UN.
These missions include:
Indonesia, 1947-1951 [UNGOC UN Committee of Good Offices, UNCI UN Commission for Indonesia]
When violence erupted as a result of Indonesia's movement to independence from the Netherlands, the United Nations established several bodies to broker peace.
Korea, 1947-1950 [UNTCOK UN Temporary Commission on Korea, UNCOK UN Commission on Korea]
UN military observers monitored the tensions between North (backed by the USSR) and South (backed by the US) Korea. The conflict escalated into full-scale war. See the Korean War [link]
Middle East, 1948- [UNTSO UN Truce Supervision Organization, UNDOF UN Disengagement Observer Force, UNIFIL UN Interim Force in Lebanon]
UN missions monitored the truce in Palestine, supervised the ceasefire between Syria and Israel in the Golan Heights and monitored the withdrawal of Israeli forces from Lebanon.
Kashmir, 1950-1985 [UNMOGIP UN Military Observer Group in India and Pakistan, UNIPOM UN India-Pakistan Observation Mission]
Observers monitored the ceasefire between India and Pakistan in the disputed zone of Kashmir.
Cyprus, 1964- [UNFICYP UN Peacekeeping Force in Cyprus]
Australian civilian police were deployed to maintain law and order and monitor the ceasefire between Cypriots of Greek descent and those of Turkish descent.
Sinai, 1976-1979 [UNEF II UN Emergency Force II, Multinational Force and Observers]
Australia contributed to the UN mission that monitored the ceasefire between Egyptian and Israeli forces and the buffer zone around the Suez Canal.
Iran-Iraq, 1988-1991[UNIIMOG UN Iran-Iraq Military Observer Group]
Observers supervised the ceasefire between Iran and Iraq and monitored the withdrawal of troops.
Cambodia, 1989-1993 [UNBRO UN Border Relief Operation, UNAMIC UN Advanced Mission in Cambodia, UNTAC UN Transitional Authority in Cambodia]
During the period after Vietnam's occupation of Cambodia opposing factions struggled for power. Australians with the UN missions assisted refugees and provided communications support.
Namibia, 1989-1990 [UNTAG UN Transition Assistance Group]
The UN provided assistance in Namibia's transition to independence from South Africa. Australia's main contribution was a squadron of engineers.
Western Sahara, 1991-1994 [MINURSO UN Mission for the Referendum in Western Sahara]
The United Nations mission in Western Sahara provided assistance in the referendum on integration with Morocco or independence.
Iraq, 1990-2003 [MIF Maritime Interception Force, UNSCOM UN Special Commission, UNMOVIC UN Monitoring, Verification and Inspection Commission]
After the Gulf War [link], the United Nations Security Council approved trade sanctions on Iraq. Australia contributed ships to patrol the Persian Gulf to enforce the trade embargo. Australians also contributed to the inspections for nuclear, chemical and biological weapons.
Somalia, 1993-1995 [UNOSOM I UN Operation in Somalia I, UNOSOM II UN Operation in Somalia II]
After a period of civil war and famine, UN assistance was sought. The Australian contingent's main duties were escorting aid convoys, patrolling, providing security for a township and airstrip and liaising with civilians and non-government organisations.
Rwanda, 1994-1995 [UNAMIR UN Assistance Mission for Rwanda]
Conflict between ethnic groups in Rwanda since the 1960s culminated in the genocide of between 500,000 and 800,000 people during just three months in 1994. After an initial delay by much of the international community, the UN intervened. Australia's contribution was mostly medical personnel.
East Timor, 1999- [UNAMET UN Mission in East Timor, UNTAET UN Transitional Administration in East Timor, UNMISET UN Mission of Support in East Timor, UNMIT UN Integrated Mission in Timor-Leste]
UNAMET was formed to organise a ballot for East Timorese independence and supervise the transition to independence from Indonesia. Violence erupted during and after polling and an Australian led international force was sent in to restore order, assist refugees and provide humanitarian aid. The later UN missions were charged with monitoring of peace. Australia's involvement in East Timor is our largest contribution to a peacekeeping mission to date.
Please note that the particular involvement of South Australian is difficult to determine. Also note that the dates given indicate the period of Australian involvement, which is not always the length of the entire operation.
For more information see the United Nations Peacekeeping website and Peter Londey's book Other people's wars : a history of Australian peacekeeping (Crows Nest, N.S.W. : Allen & Unwin, 2003)
While the State Library of South Australia holds many reference works related to United Nations peacekeeping forces, we hold little in the way of records relating to South Australians involved. Those items with a South Australian interest include an oral history with Brent Aldridge who served with United Nations forces in Cyprus and East Timor.
If you have any original items relating to South Australians at war the Library's Archival Field Officers would like to hear from you with a view to a copy being made for the Library, or a donation, with possible reference to the national Cultural Bequest scheme.