Shipbuilding in South Australia: Twentieth century continued
Adelaide Ship Construction Ltd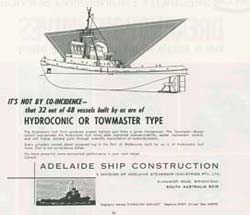 Meanwhile in 1957 the Adelaide Steamship Company had set up a subsidiary, Adelaide Ship Construction Ltd, which was incorporated in July 1957. At the same time it was issued with the sole Australian licence for the Hydroconic hull design patented by Burness, Corlett & Partners, United Kingdom. This hull design for tugs gave them greater bollard pull from a given horsepower. Adelaide Ship Construction had been set up especially to address the issue of Australia's ageing fleet of tugs. The yard was built on the historic Fletcher's slip site at Birkenhead: orders were received almost immediately.
The keel for the first tug was laid 20 May 1958 and it was launched 12 February 1959. The shipyard site grew from two acres and one berth to four berths and 6½ acres in 1968, and to cater for vessels up to 425 feet long. At this time it employed more than 1000 men, but like Whyalla, it was also infected by rampant trade unionism that slowed production. Adelaide Ship Construction had also acquired from Burness, Corlett and Partners the licence for their 'Towmaster' patent. Coupled with the Hydroconic hull design this enabled ever greater pull in its tugs. Hamersley Comet, built in 1968 had a bollard pull of 34.1 tons, the strongest to that time. However by 1973 the yard was running at a loss of $3.4 million, and it was officially closed in August of that year. Its last ship was Cape York.
The closure of the two major South Australian shipbuilding yards in the 1970s was part of a worldwide slump in shipbuilding, coupled with heavy competition from Japan. In Australia, subsidies were also reduced by governments.
Others
Ship construction continued in South Australia, but now it was largely recreational vessels, and later again special vessels. North Arm Slipway Pty Ltd was established in 1977, and in 1981 increased the size of its slipway to handle vessels up to 500 tons. At Birkenhead, Searle's Boatyard was the last of the many slipways that have occupied this area since HC Fletcher established his slip there in 1851. Searle's Boatyard was overtaken by the residential development of Newport Quays along all of this northern shore of the Port River. Despite being placed on the Heritage at Risk list of the National Trust, the owner Kingsley Haskett was evicted by the State Government in April 2009 and the yard closed.
Keith Veenstra began operations at Goolwa and built the 65-passenger launch Aroona for cruises on the river and lakes. Later in 1972 he built the Murray River Queen followed by several others for the growing tourist trade on the river.
At Port Adelaide, the engineering firm, Eglo Engineering built Philanderer III for the Kangaroo Island service from Cape Jervis. 
Adelaide Ship Construction International Ltd was established in 1980 to build fishing boats.  Sited in the North Arm of the Port River ASCI now has five slipways as well as large undercover work areas. In 1992 it expanded into the international market and is capable of building vessels up to 1200 tonnes. Its vessels include prawn trawlers, tuna purse seiners and harbour tugs. More recently it has added dive/charter boats and passenger catamarans for the Queensland tourist trade to its list of vessels. The company is also qualified in welding and fabrication processes in aluminium for patrol and pursuit vessels, and to stringent US Military Standards. In 2009 the company is in dispute with the South Australian government over rent rises on the land it occupies.