Conflicts : World War One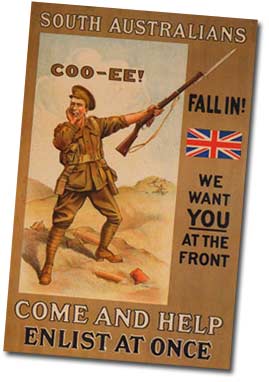 Following the assassination of Archduke Ferdinand, heir to the Austrian-Hungarian throne, Germany declared war on Russia on 1 August 1914, and two days later invaded France through Belgium. As a consequence, Britain declared war on Germany on 4 August. Australia was drawn into the massive conflict of 1914-1918 through its ties with Britain; on 31 July 1914, Prime Minister Cook had declared, 'Remember that when the Empire is at war, so is Australia at war' ('Statement by Mr. Cook', Argus, 1 August 1914, p. 20).
The State Library holds a vast amount of material dealing with the many facets of the First World War. It has particularly rich holdings of material giving first hand personal accounts of the impact of war.
The National Archives of Australia have digitised many service records of Australian soldiers who served in World War One. Search their RecordSearch for service records or see their Mapping our Anzacs website for further information.
Treasure's Wall exhibition curator Carolyn Spooner talks about the World War One exhibition held at the State Library in 2010 with the ABC's Brett Williamson here. Courtesy of the ABC.