891 ABC Afternoon Delights at the State Library : 18 January 2005
Carole Whitelock talked with Michael Talbot.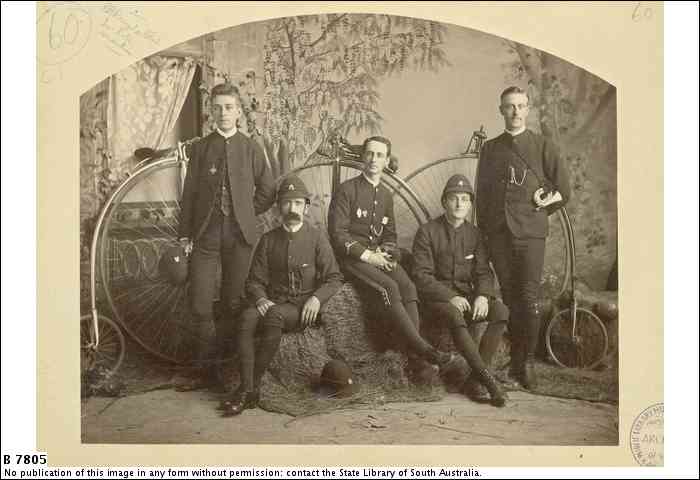 B 7805 - South Australian Bicycle Club, c1885
The Tour Down Under cycling race starts on the third Tuesday of January each year. Today's topic was chosen to coincide with the start of the 2005 race.
Cycling in Australia developed rapidly after the importation of the first ordinary or 'penny farthing' bicycle to Melbourne in 1875. A Melbourne Bicycle Club was formed in 1878 and South Australia followed in 1881.
The first cycle trip from Melbourne to Adelaide took eight days in 1881.
The bicycle we know today - known then as the safety bicycle - was introduced to Australia in the late 1880s.
A worldwide cycling craze occurred in the mid 1890s. In 1897 the number of different brands available in Australia peaked at over 150 spanning the alphabet from Acme to Zimmy. Prices for touring bicycles dropped dramatically during that decade. About 1897 in rural NSW a new low priced bicycle cost about the equivalent of four or five weeks wages for a rural worker.
Kinds of cycles
We are most familiar with the diamond framed bicycle with two equal sized wheels. When this design replaced the penny farthing, it was known as a safety bicycle.
 

 

 

B 56371 - Man on a Penny Farthing, c1890

 

B 34321 - Man on a tricycle, Clarendon, c1871

 

PRG 280/1/2/523 - William Fred Searcy riding an early type of bicycle, c1895

 
Bicycle clubs
This enthusiasm for cycling led to a proliferation of cycling clubs. The S.A. Cyclist (Adelaide : Hussey & Gillingham, 1896-99) listed 15 clubs in January 1897 and this had increased to 24 by July.
The primary body seems to have been the League of SA Wheelmen and the following clubs were affiliated with it:
| | | |
| --- | --- | --- |
|    Adelaide Cycling Club  | Mount Gambier Ramblers  | Port Adelaide Cycling Club  |
|    Arid Cycling Club  | Mount Gambler Cycling Club  | Port Augusta Cycling Club  |
|    Gawler Cycling Club  | Naracoorte Cycling Club  | Port Pirie Cycling Club  |
|    Great Northern Bicycle Club  | North Adelaide Cycling Club  | Railway Cycling Club  |
|    Holdfast Bay Cycling Club  | Northern Areas Cycling Club  | Red Bird Cycling Club  |
|    Jamestown Cycling Club  | Norwood Cycling Club  | SA Bicycling Club  |
|    Mannum Cycling Club  | Parkside Cycling Club  | Southern District Cycling Club  |
|    Melrose Cycling Club  |    | West Torrens Cycling Club   |
Club events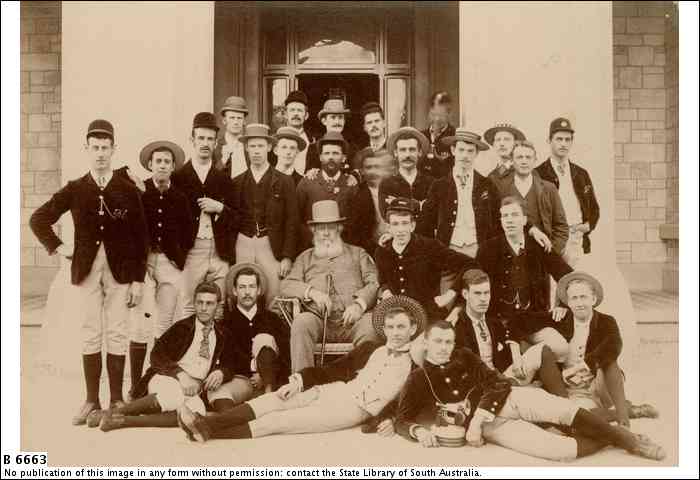 B 6663 - North Adelaide Cycling Club, 1891
When I talked about menus last year I mentioned a 1905 menu from the annual dinner of the North Adelaide Cycling Club. A caller commented that it was mainly a dining club, so it was interesting to see some write up of their activities in the S.A. Cyclist. Their annual strawberry picnic involved a run from North Adelaide via Norwood to Glen Osmond and then to Smiths Garden where the picnic took place. A paper chase in 1897 took in the Gilberton, Medindie Botanic Park Norwood and Marryatville area. The pack 'scampered' by back lanes, alleys, over fences, across paddocks and over all sorts of rough places but the 'foxes' weren't caught. The competitors the rode to Waterfall Gully 'to meet the slow contingent accompanying the ladies on their ride to the waterfalls' before cycling back to North Adelaide. Kelsey's Assembly Rooms Henley Beach was the venue for a concert on 18 March 1897. Riders assembled at the corner of West Terrace and Hindley Street at 7.30 and cycled to Henley Beach for a program of songs and recitations
Big events might see a collaboration between clubs. A 'Monster Cycle Parade' to Henley Beach on 8 May 1897 involved 11 clubs and a visitors contingent. Cyclists left in Club order from North Terrace to Henley Beach starting at 2.45. Sports at the beach included a tug of war. Tea at 5pm was available for 1s. a head. A hall was booked for the evening with a programme of music.
S.A. Cyclist magazine
The State Library has copies of an early cycling magazine, the S.A. Cyclist, a weekly that started in December 1896. The opening editorial describes cycling as an institution that has come to stay 'it enters all sorts of businesses, gives unlimited pleasure and is one of the foremost Sports of the world'. It also said South Australia 'is particularly adapted for cycling with good roads, good scenery and a bracing atmosphere'.
The magazine listed clubs, described events, carried advertising and also offered advice to riders.
A tip for finding a puncture without water was to put an ounce of powdered red ochre - available from any colour merchant - in each tube. The powder is churned up in the tube. If there is a puncture some powder will be blown out onto the inside of the tyre leaving a small red mark opposite the puncture and a smaller mark on the tube itself.
The magazine ran an editorial against bicycle bells. Its view was that the law compelled cyclists to fit their bicycles with a bell but there was nothing to compel its use. Cyclists were unlikely to run into pedestrians and if there is any danger ringing a bell increases the danger.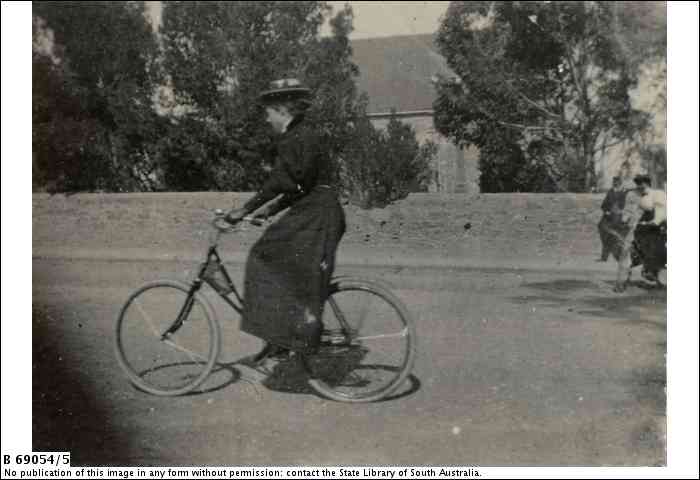 B 69054/5 - A woman cyclist, c1900
There was advice for beginners as well as proficient cyclists. The following was how the magazine advised women riders to mount and alight:
To mount a ladies bike properly the rider should stand on the left side of the wheel. The right pedal should be raised higher than the left. Grasp the left handlebar firmly in the left hand. Place the right foot on the right pedal. Arrange the dress skirt to hang properly by using the right hand, then grasp the right handlebar with the right hand, spring quickly into the saddle, and place the left foot on the pedal. At the same time press the right pedal quickly and this will balance the wheel.
In dismounting you should lift the left foot from the pedal and step lightly to the ground; directly the foot touches the ground the right foot should be withdrawn from the pedal. A great many ladies spring to the ground alighting on both feet at the same time. This takes rather a good deal of practice, as it is rather difficult to do gracefully without falling.
A number of agencies advertised lessons in cycling.  
Touring
Touring seems to have been popular. The S.A. Cyclist noted five Easter tours in 1897. All ran from Thursday to Monday allowing 'time for devotions on the Sunday'. Routes were:
Strathalbyn, Milang, steamer to Meningie and back, cycle to Goolwa thence Victor Harbor and home via Willunga
Noarlunga, Yankalilla, Cape Jervis and back to Yankalilla, Goolwa via Victor Harbor, and home via Strathalbyn
Gumeracha, Angaston, Clare, Kapunda and home via Greenock, Sheoak Log and Gawler. Train to Aldgate then Woodside, Gumeracha, Angaston, and home via Tanunda, Lyndoch and Gawler
Clarendon, Mount Barker via Meadows and Echunga, Lobethal via Woodside, Gumeracha and home via Millbrook and Houghton.
Competitions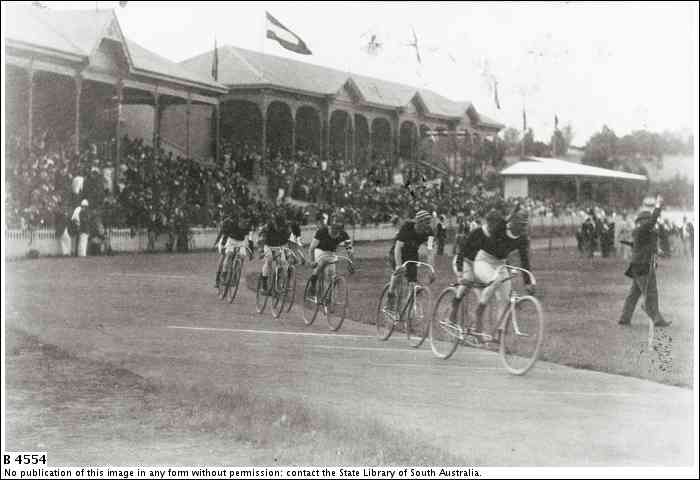 B 4554 - Cycle racing, c1895
The S.A. Cyclist regularly reported race meetings such as the Port Pirie Cycling Carnival held on Monday 28 December 1896. About a dozen Adelaide competitors attended. The main race was the two mile summer handicap with a prize of £27. As another example, the Northern Areas Cycling Club race meeting at Petersburg on 23 June 1897 attracted an attendance of over 1000 people.
Cycling fascinates me but I find a lot of the competitions incomprehensible. One described in the S.A. Cyclist was the Secret Distance Invitation Race. The rules were that it was a race of up to three miles. A pistol shot somewhere along the route signalled the end of the race, the place was predetermined but known only to the officials. There were six competitors and the winner had by good luck just put on a sprint and had just gone into the lead. The actual race distance was 1 mile 470 yards.
Dress regulations were sometimes explicit. For the League of SA Wheelmen Grand Summer Carnival at the Jubilee Exhibition Oval in December 1896 cyclists were required to wear 'Jackets with long sleeves, plain white knickers, and black or coloured guernseys. Socks must be worn, Colours must be registered with the Colour Steward. Competitors in colours other than the ones specified will be fined and in default of payment will not be allowed to start.'  
Long distance rides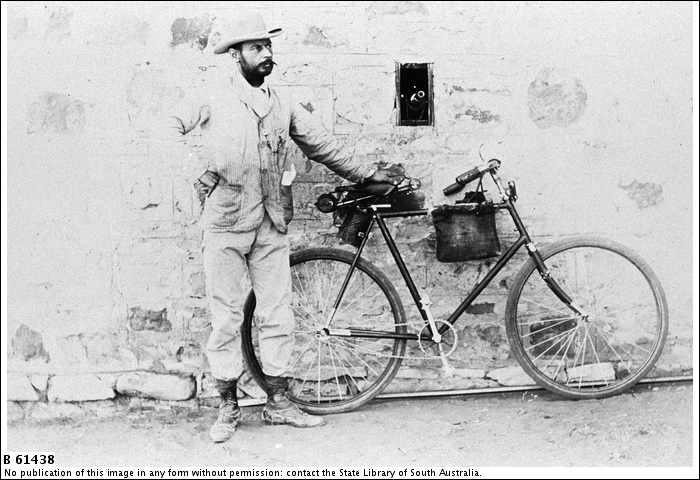 B 61438 - Jerome J Murif, 1897
One feature of the 1890s was a spate of long distance rides. Three circumnavigations of Australia took place in 1899 1900. Jerome Murif, who made the first Adelaide to Darwin crossing in 1897 described his ride in From ocean to ocean: across a continent on a bicycle, an account of a solitary ride from Adelaide to Port Darwin (Melbourne, George Robertson & Co., 1897).
He did not attempt a fast crossing. His trip of 74 days included a week touring the Alice Springs district. By taking his time, he said encouraged others to do better.
Typically male cycling club members uniform seems to have been shirt, vest, jacket, knickerbockers, stockings, cycling shoes and cap. Flies could be very troublesome and some long distance riders tried fly nets and goggles to keep them at bay. Murif didn't conform to this standard of dress. For comfort he wore pyjamas   and carried a spare pair to change into before arriving at telegraph or pastoral stations on the way. But he also wore high topped boots rather than shoes to prevent sand getting into them while he was pushing the bicycle across sand dunes.
Non riders had a different view of what might be good cycling country. In the Northern Territory someone advised Jerome Murif to take 'nice soft flats' and to 'avoid gritty rises' This was a cattleman's view, and the soft flats were sandy and difficult while the hard gritty rises were a much better cycling surface. Sand hills were difficult. Murif walked most of the 300 miles south of Alice Springs. He also tacked back and forth across the linear dunes. He judged that the sand hills would only be rideable after a heavy rainfall. Bay of Biscay soil in the Northern Territory was also difficult 'like cycling up and down a stairway, with the stairs of unequal heights and width, blindfolded'. But he found 'a splendidly smooth' clay pan of 20 miles near the MacDonnell ranges. One of the worst stretches was having to carry his bicycle on his shoulder through a soft marshy lake. With that and a gibber plain he only managed 21 miles that day, On the way into Darwin he had to cycle along the railway ballast. Spinifex generally meant loose or sandy soil in contrast to mulga where the going was better. Near Daly Waters there was a wiry grass that wrapped around the spokes, hub, chain and cogs and immobilised him. Sometimes he had to stop every few hundred yards, dismount, and cut it all away.
Moonlight
Moonlight was a great aid to cyclists. The Adelaide to Melbourne record attempts commonly began in Adelaide at the full moon to cover the early, relatively good routes out of Adelaide. The difficult bits on the Coorong and South East could be done by day and then there were better roads again in Victoria that could be done by moonlight. In 1898 you didn't have to carry lights on the four nights preceding the full moon and the night of the full moon itself.
The S.A. Bicycle Club held a moonlight run to the Eagle on the Hill in January 1897 to support JE Snell on his record-breaking attempt to Melbourne. 'A good number journeyed to the Eagle and waited until Snell hove in sight, when he was given a good cheer.'
Sources
More Afternoon Delights
ABC Afternoon Delights at the State Library was a series in which Carole Whitelock talked with Michael Talbot from the State Library about South Australian topics, illustrated by items from the Library's collections. View the associated SA Memory page for each topic.