SA Memory ... past and present, for the future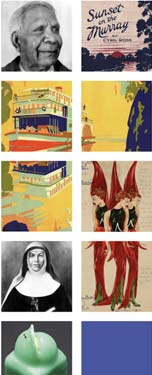 SA Memory is an online gateway to South Australian culture and heritage, past and present. This multimedia website focuses on the South Australian experience - what makes South Australia different from other places. SA Memory illustrates and interprets themes highlighting South Australia's people, places, issues and events from the colony's beginnings to now: South Australia's 'memory'.
SA Memory helps to fulfil a key aim of the State Library of South Australia's Strategic Plan '...to continue preserving the memories of the state' through collection, preservation and accessibility to information about cultural heritage. SA Memory encourages collaboration with partners such as public libraries, local history societies, galleries, museums, archives, government agencies, businesses, and the community, to build a rich website resource and enhance the stories told.
SA Memory showcases a wide range of archival and published materials.
read original documents and transcripts
view images - photographs, posters, art works, interactive maps, and more
listen to sound recordings, including oral histories
watch historic film footage
contribute to SA Memory
Many of these materials have previously only been accessible to visitors to collections, but are now accessible statewide and beyond.Most items available are about South Australia, created by South Australians, or produced in this state. These selected digitised items from the State Library and contributing partners support and encourage the study and celebration of the history and culture of South Australia.
Notes about resources
SA Memory presents a broad range of original resources as a record of the period in which they were produced. Society changes - original historical resources reflect attitudes of the times in which they were created, and some materials may contain language, stereotypes or images which could be considered offensive.
Users of this website should note that images are displayed which may show Aboriginal people who have died, which may cause sadness and distress to their relatives. Care and discretion should be used when viewing the images.
IT Architecture and Delivery
The State Library of South Australia websites run on an open, extensible architecture designed by Chimo/Eclipse and managed by the Library's Information and Communications Technology Group.
Image files are stored on a 11 terabyte network of servers (1 terabyte = 1,000 gigabytes, or 1 trillion bytes).
The data hierarchy and structure are managed through SQL and Tamino databases. This XML data is indexed with the Java open-source search engine Lucene, which provides the search function.
ColdFusion software provides the application programming interface that integrates data from the Library's Library Management System with metadata, digitised media and extra descriptive content provided by the Library's Collection Specialists for web delivery, via a website interface developed by Library's Information and Communications Technology Group.
Please contact the State Library's Web Services Team with any enquiries.