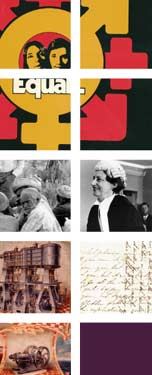 When you support SA Memory you are helping to preserve and celebrate South Australia's rich cultural heritage.
Individuals, organisations and community groups are invited to help to develop and enhance SA Memory for future use and enjoyment.
There are numerous ways to become involved with the project:
 Donations
Offers of material from members of the community are welcome. Contact the State Library of South Australia's Donations Officers or your local public library or heritage group.
SA Memory encourages collaboration with cultural organisations such as public libraries, local history societies, galleries, museums, archives, government agencies, and community groups, to build a rich website resource and enhance the stories told. All contributors are credited, promoting an increased awareness of participating partners to a wider audience.
More information about donating material to the collection of the State Library of South Australia.
 Legal Deposit
Legal deposit ensures that the works of authors and publishers will survive for future generations, because deposit libraries assume an obligation to preserve all material lodged with them.
Legal deposit is a statutory provision which obliges publishers to deposit copies of their publications in libraries in the country in which they are published. For South Australia these libraries are the National Library of Australia in Canberra, the State Library of South Australia in Adelaide and the Parliamentary Library in Adelaide.
For more information see the State Library's Legal Deposit Library Guide.
 Friends of the State Library
The Friends of the State Library of South Australia was formed in 1932. The aim of the Friends is to assist and promote the interests of the State Library. During the 1930s there were insufficient funds available from the Government for the State Library, then called the Public Library, to purchase ordinary book requirements.
Initially the Friends came to the aid of the Library with funds for this purpose. Since then the Friends have concentrated on funding the acquisition of fine books, manuscripts and works of art to enhance the collections held by the Library.
More information about the Friends of the State Library.
 Comments and suggestions
Contact us with any comments or suggestions for SA Memory.