891 ABC Afternoon Delights at the State Library : 28 September 2004
Carole Whitelock talked with Michael Talbot
The campaign for an eight hour working day in South Australia seems to date from moves by building workers in 1854. Sydney metalworkers were the first in Australia to achieve an eight hour day, in 1872, and this reinvigorated campaigns elsewhere.
In July 1873 a 48 hour week began at a number of Adelaide and Port Adelaide engineering works or metal foundries. This spread to the Railways Department, and factories at Gawler, Willaston, Mount Gambier and Wallaroo. The United Tradesmen's Society had branches at Adelaide, Port Adelaide, Gawler and Wallaroo and led the eight hours campaign.
The growing strength of the unions became evident. The 1882 celebration had 6,000 marchers and 10,000 people attended the events at the Exhibition grounds. There was pressure on government to grant an annual holiday on Eight Hours Day, now Labor Day.
The 1880s and '90s saw pressure on workers' gains and in February 1888 unions formed an association specifically to protect against employers' attempts on the eight hour day. The later '80s and early '90s were a period of strikes and dissent over wages, conditions, and the right to belong to a trade union. It was also a period of a number of economic depressions with a particularly serious one in the mid '90s.
22nd Anniversary Celebrations
Monday 2 September 1895 was the 22nd anniversary celebration of eight hours day. It was also the year that the foundation stone for the Trades Hall building in Grote street was laid.
The Adelaide Observer opened its account of the 1895 celebrations with a reference to the theme of depression:
'Tis a time of deep depression, there's retrenchment in the air;
There's a cutting down of prices and of wages everywhere;
There's a turning of old garments, and a patching of old pants,
And a tendency to cotton to one's wealthy maiden aunts.
'But when a holiday dawns depression takes a back seat temporarily' and although the day was windy and dusty the paper went on to deal at length with the celebrations that included the ceremony to lay the foundation stone of the Trades Hall in Grote Street.
Foundation Stone Ceremony 2 September 1895
| | |
| --- | --- |
|    |    |
|  B 50939 - Laying the foundation stone for Trades Hall, Grote Street, 1895  |    |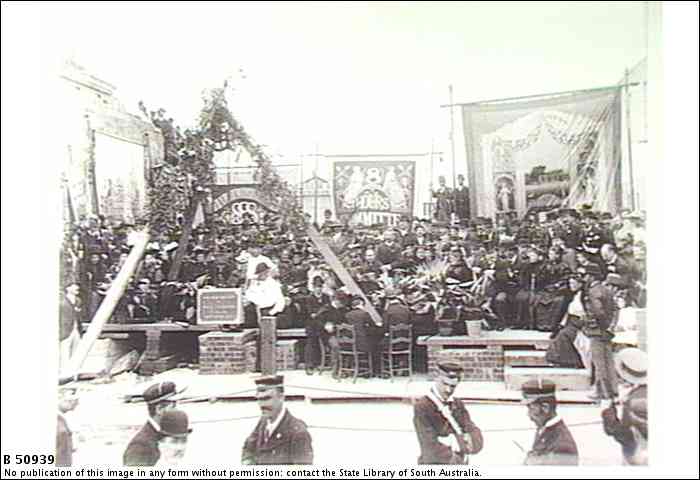 B 50939 - Laying the foundation stone for Trades Hall, Grote Street, 1895
Approaches to government to fund a trades hall had not been successful so the Trades and Labour council bought a block in Grote Street next to the Rechabite Hall for 1200. Designs were called for the work. Plans by TH Smeaton were selected, and tenders called for the building to cost about 3,000.
Mrs Kingston, wife of the Premier performed the stone-laying ceremony after which the City Volunteer and Glenelg Model bands struck up the Song of Australia.
Eight Hours Day Procession 1895
The 1895 procession went from Victoria Square to King William Street, along Currie Street to Morphett Street, turned into Hindley Street, continued along Rundle Street to East Terrace and then to the exhibition ground on North Terrace. It was quite a lengthy procession that included five bands: Moonta Miners' Band, Sturt Street School Band, City Volunteer Band, Eastern Suburban Band, and the Riverside Band. As the photographs show, banners were a significant feature of union parades. The flyer detailing the marching order lists 33 unions and 23 banners.
| | | |
| --- | --- | --- |
|   | |   |
| B 8844 - Eight Hours Day procession, King William Street, c1895  | | B 8845 - Eight Hours Day Procession, Currie Street, c1895  |
In general the union names are more specific than today when there is a tendency to have a variety of diverse trades under a general title. The Amalgamated Society of Engineers does not sound out of place today, but the Port Adelaide Wood and Iron Shipbuilders was particularly place-specific. 'Storemen and packers' has a familiar sound, but the group marching in 1895 were the Storemen, Packers and Porters Union.
The only time I have heard of a paper-ruler is in Samuel Pepys diary where he was taken with Nan, his paper-ruler's comely black maid-servant, but the Bookbinders and Paper Rulers' Society marched in 1895 as did the Tobacco Twisters' Society.
Relatively recently formed, was the Working Women's Trade Union. In December 1899 a meeting opposed to sweating of women in the clothing trades pressed for formation of a working women's trade union that was established in 1890.
Sports and Entertainments
The march would typically be followed by entertainments at the Jubilee Exhibition Ground on North Terrace. I don't have details for 1895, but the State Library has programs for sports events and socials and a concert or 'Grand Continental' from other Eight Hours Days later part of the 1890s. There were also prizes awarded to school children for events like the best written copy book, or in drawing or some form of manual work.
Labor Day 2004
Labor Day is still an important event for trade unionists, and The Labor Day Celebrations Committee of the United Trades & Labor Council of South Australia's website says the committee organises a march or rally each year in support of the principle of eight hours work, eight hours rest and eight hours sleep. In addition Labour Day celebrations for 2004 include food wine & union race day at Victoria park racecourse on Monday 4 October 2004.
See the SA Unions website for upcoming events
Sources
'Eight hours festival', Adelaide Observer, 7 September 1895.
Jim Moss, 'Formation of the Council, 1836-1890' in To unite more closely / compiled by Chris Vevers, Adelaide: United Trades and Labor Council of South Australia, 1984, pp.7-12.
In addition the State Library holds Records of the United Trades and Labor Council of South Australia, covering the period 1883-1993.
More Afternoon Delights
ABC Afternoon Delights at the State Library was a series in which Carole Whitelock talked with Michael Talbot from the State Library about South Australian topics, illustrated by items from the Library's collections. View the associated SA Memory page for each topic.