Taking it to the edge: Coast: The Dutch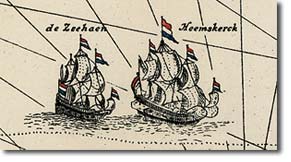 In the early years of the 17th century the Dutch began to explore and discover what is now Australia. In 1606 they sent the yacht Duyfken captained by Willem Jansz to explore the southern coast of New Guinea. He turned south away from the shoals of Torres Strait, and charted a coastline: the west coast of Queensland's Cape York Peninsula. Discoveries on Australia's west coast (New Holland) followed.
Part of the southern coast was charted in 1627 by Pieter Nuyts and Frans Thyssen on the Dutch East Indiaman 't Gulden Zeepaard (the Golden Seahorse). There are no surviving records of the voyage in the records of the Verenigde Oostindische Compagnie (VOC), or Dutch East India Company and so what is known about the voyage is very brief. The ship was fitted out by the Company and sailed from the Netherlands for Java on 22 May 1626. It arrived at Batavia (now Jakarta), Java on 10 April 1627. It is only in maps published after that time that a stretch of the southern Australian coast, east of Cape Leeuwin, and extending to longitude 133 30'E, appeared. This stretch of coast usually bore the legend 'Landt van P. Nuyts 26 January 1627.' The easternmost limit of the coast stops at the islands of Saint Peter and Saint Francis, near Ceduna in South Australia, generally believed to be named for Captain Frans Thyssen and his important passenger Pieter Nuyts. The maps also indicate the islands of the Recherche Archipelago and several anchorages. Apart from the maps, there is also an interesting reference to Nuyts land in a pamphlet published by Jean Purry in 1718 Memoire sur le pais des Cafres, et la terre de Nuyts... in which he urges the VOC to colonise Nuyts Land. Matthew Flinders in the atlas accompanying his account of his expedition along the southern Australian coast in 1802, acknowledged this discovery by Nuyts and Thyssen, and marked that section of the coast "Discovered by Peter Nuyts 1627". He named the island of Saint Peter and Saint Francis, Nuyts Archipelago. This is the first appearance of what is now South Australia on the world map.
Jonathan Swift in his book Gulliver's Travels uses what is generally considered to be the location of the islands of Saint Francis and Saint Peter, as his Lilliput, though this has been disputed by Warren Bonython and others in an article by Jeff Turner titled 'One for the little people' in The Advertiser 17 February 1996, page 30.