Taking it to the edge: Land: Explorations pre-1840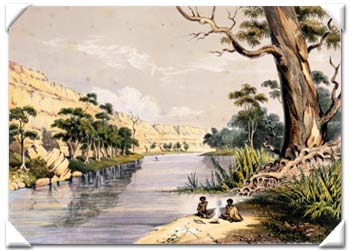 Exploration of the land adjacent to the capital began almost immediately, as settlers began looking for water, pastures and mineral resources. Further afield Robert Tod and a party of friends explored the region around Port Lincoln and discovered fertile land and a stream they named the Tod.  Another group, which included Hawson and Dutton, also explored inland from Port Lincoln and Coffin Bay, naming several prominent hills.  They went out again several months later and discovered more fertile land in the region.
Yorke Peninsula was also examined:  Robert Cock and Mr Jameson spent some time examining the peninsula, and Cock returned again later with another party engaged in survey work.  In 1839 Governor Gawler led a party, which included Charles Sturt up the River Murray and continued  to explore the country between the North West Bend of the river and the head of the gulfs.  The country was found to be sandy with stunted vegetation and little water.  With men and horses suffering from lack of water the party split in two, with Gawler and Bryan leaving ahead of Sturt and the rest of the group.  Bryan was separated from Gawler and became lost in the bush.  Despite extensive efforts by Gawler and Sturt he was never found.  Mount Bryan commemorates him. The Downstream website, especially European exploration provides more information on this.
Men overlanding cattle and sheep from Sydney and Port Phillip to the young colony added to the knowledge of the land.  Joseph Hawdon and Charles Bonney, the first overlanders, discovered Lake Victoria and Lake Bonney on the River Murray in 1838.  The Downstream website provides more detail of this. Charles Bonney in his journey from western Victoria in 1839 travelled through the south-east portion of the colony and discovered Lake Hawdon in the region of Guichen Bay.  Travelling along the Coorong he then discovered a large lake - Lake Albert.  He crossed the River Murray just above the junction with Lake Alexandrina.
Overlanders also took herds westward around the gulfs to Eyre Peninsula and added to the knowledge of the land along the way.