''… I despair of much being achieved even with horses; and I certainly think we have never given explorers fair play in not equipping them with camels or dromedaries and waterskins, which in Africa I found the best methods of carrying liquid.''


Governor Richard MacDonnell to Charles Sturt 10 August 1858. Quoted in Mrs Napier Sturt's Life of Charles Sturt (1899) page 325/6
The first camel to be used in exploration work in Australia had been imported in October 1840, the sole survivor of several sent from the Canary Islands.  In 1846 John Horrocks took the camel, as one of his means of transport, on an expedition to the northwest of Pt Augusta.  In an accident that involved the camel, Horrocks was severely injured, and subsequently died.  The camel was destroyed.  Several camels were imported into Tasmania in December 1840, but were never used for exploration, although they did make the overland journey from Melbourne to Sydney and eventually were placed on view in the Domain in Sydney. The Burke and Wills expedition from Melbourne was the next to use camels.  In 1860 they left Melbourne for the north coast of Australia, with 26 camels as well as horses and wagons.  From their advance depot on Cooper Creek, Burke and Wills set out with six camels, one horse and four men.  The north coast was reached on the Gulf of Carpentaria, and on the disastrous return journey, three of the men died: two camels and the horse were eaten, another two camels were abandoned, and two became bogged and were shot.  Too much water had been the main problem, with mud an impediment to the camels.  John McKinlay, leader of one of the Burke and Wills search expeditions, had several camels in his party and found them useful.  However camels and horses together on the same expedition were found to be incompatible.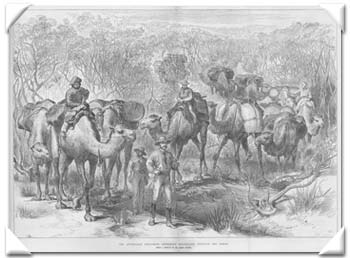 In 1866 Sir Thomas Elder imported a large number of camels into South Australia, to establish a breeding stud at Beltana.  The camels were from Pakistan and included riding camels and heavier breeds for carrying loads.  Together with the camels he brought men to handle them - commonly called 'Afghans' they were in fact from Rajasthan and Baluchistan (now West Pakistan).  Peter Egerton Warburton was the first explorer to use camels exclusively: on his 1872/73 expedition from the Overland Telegraph Line to Perth.  Using camels from Elder's stud he encountered severe conditions - seven camels were eaten, and only two survived.  But it seems unlikely that the expedition would have survived without the camels. (See Warburton Journey across the western interior of Australia 1968 Page 216-218, page 267, Page 255, Page 297/8
Later expeditions also used camels exclusively, notably WC Gosse, JW Lewis, and WH Tietkens, and established that camels were the best means of transport in Australian desert regions. David Lindsay on the Elder Scientific Exploring Expedition and Larry Wells on the Calvert Exploration expedition continued the use of camels, as did Richard Maurice in the early 20th century.  Edward Colson's and CT Madigan's crossings of the Simpson Desert in the 1930's would not have been possible without the camel.
Camels were also used successfully in construction work on the Overland Telegraph Line and the railways and fencing projects.
Unfortunately camels sometimes ate plants that were poisonous to them. David Lindsay described this in his 1885 diary (as reported in George Champion's book Australia's forgotten explorer: David Lindsay, F.R.G.S.  page 49): "Poison plant as met with by E. Giles in Western Australia. The plant that does all this mischief is an almost indescribable vegetable. It mostly grows as a low shrub but frequently it is seen as a tree. The foliage is of a pale green colour and the leaves are more like bunches of green fringe than anything else I can compare it to, it being more like fennel than anything else. The botanical name of this destructive plant is 'Gyrootimon ramulosis'. It does not seem a certain deadly poison. Staggers and trembling of the hind limbs." Lindsay successfully treated his camels by dosing with large quantities of Epsom salts. McKnight cites the following plants as being poisonous to camels "especially when flowering or podding" emu bush (Eromophila maculate), ironwood (Acacia excelsa), gidyea (Acacia cambagei) and gastrolobium (Gastrolobium grandiflorum).
Further reading: 
McKnight, Tom. The camel in Australia, MUP, 1969
Barker, HM. Camels and the Outback, Hesperian Press, 1995
Warburton, PE. Journey across the western interior of Australia, London, Sampson Low, 1968