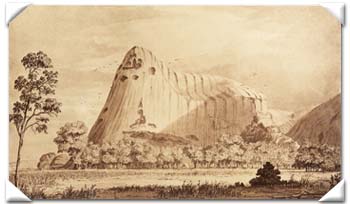 By general consensus, the right to name a place is allowed to its first 'discoverer' or explorer. It is now recognised that such naming may ignore or supersede an Aboriginal name for the place and there are instances where these are being reinstated. Matthew Flinders named many South Australian coastal places on his voyage of discovery in 1802. He documented in his Voyage to Terra Australis the reasons for the names he gave. French names along the coast were assigned by the expedition led by Nicholas Baudin at the same time, but are not necessarily those of his choice. Later explorers would sometimes find that governments seeking to curry favour with the Colonial Administration in London overrode their choices. At other times governments applied names to places to honour the work of explorers-the Flinders Ranges and Eyre Peninsula being examples of this.
Place names can be very personal things, representing family friends or events. It was often lamented that more use was not made of the evocative Aboriginal names for localities and when they were applied the spellings and meanings were often mis-used and there are now difficulties in interpretation (see The land is a map: placenames of indigenous origin in Australia).
Place names were 'confirmed by notices in the Government Gazette, or by communications to the Home Government; also by being recorded upon official maps in the Office of the Surveyor General' (Harris 1893).  In South Australia place names are now governed by the Geographical Names Board under The Geographical Names Act (An act to establish a board to assign names to geographical features of South Australia and to exercise certain other powers, and for other purposes Act 101 of 1969).
Further readings:
Cockburn, Rodney What's in a name? Nomenclature of South Australia: authoritative derivations of some 4000 historically significant place names. [Glen Osmond, S. Aust.]: Ferguson Publications, 1984.
Harris, C Hope Geographical nomenclature of South Australia. [Adelaide, Australasian Association for the Advancement of Science, 1893]
Manning, Geoffrey Manning's place names of South Australia [Adelaide]: G.H. Manning, 1990
The land is a map: placenames of indigenous origin in Australia edited by Luise Hercus, Flavia Hodges, Jane Simpson. Canberra: Pandanus Books, c2002 (LC B1572198x)
Naming places on the 'Southland': European place naming practices from 1606 to 1803 by Jan Tent and Helen Slatyer in Australian Historical Studies vol. 40 no. 1 March 2009 pp. 5-31
Also visit South Australian Place names online and search for individual placenames