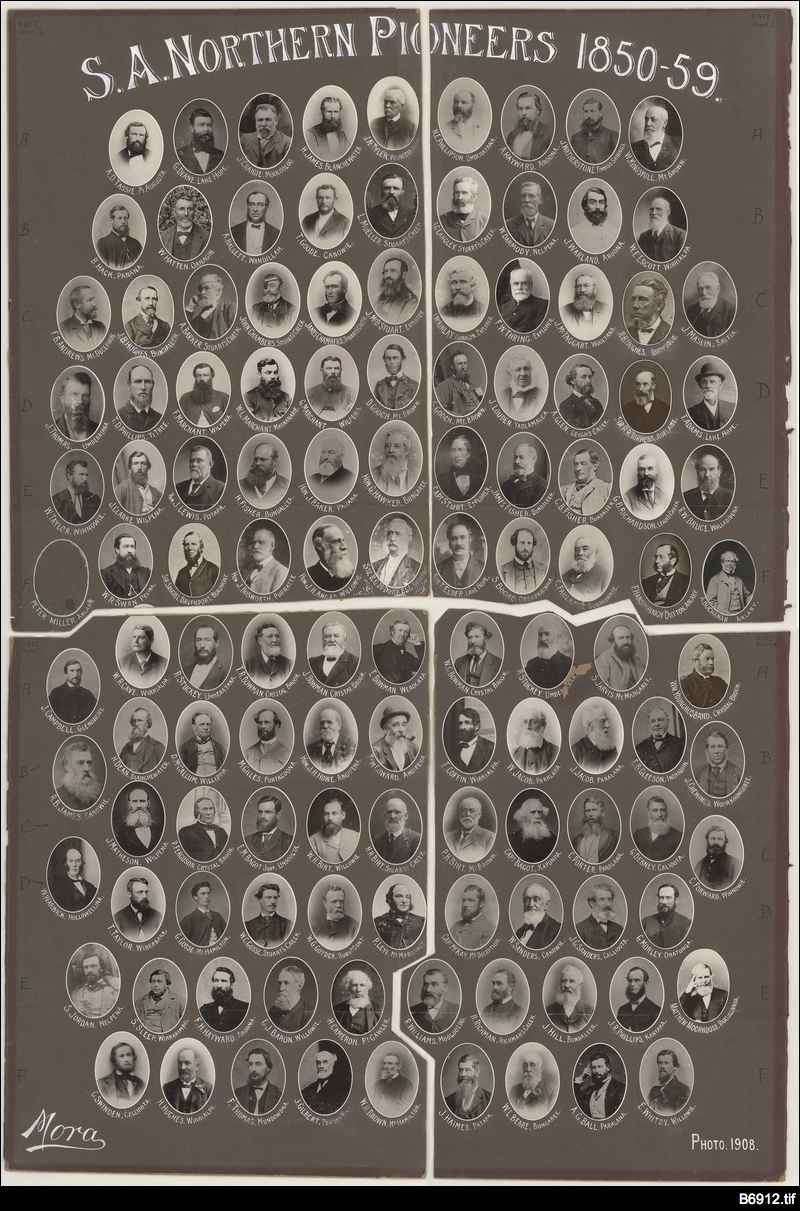 The photographic composite image (B 6912 and see below) of South Australian northern pioneers began as a display of 121 individual portraits, each attached to a board and labelled with their name and location in northern South Australia. The individual portraits are available to view below, along with updated information about the individual people. The composite was compiled in 1908 by Mora Studio, Rundle St, Adelaide. All of the portraits are of a later date than the 1850s decade, but many are considerably earlier than 1908. However, the pioneers pictured were active in the late 1840s and early 1850s era.
The text which features a selection from Pastoral pioneers of South Australia began as a series of articles in the Adelaide Stock and Station Journal from January 1923 to August 1927. This series consisted of biographical sketches of South Australia's Pastoral Pioneers and Old Colonists. The first hundred articles were cumulated in Pastoral Pioneers of South Australia, Vol. 1 1925 and the remainder was published as Vol. 2 in 1927 with a total of 230 articles.
SA Memory Foundation of South Australia 1800-1851 show cases each portrait, including a biographical article. The S.A. Northern Pioneers were faced with varying degrees of triumph and disaster as they trail blazed their way into South Australian history. The record of achievement by the Pioneers in The Adelaide Stock and Station Journal biographical entries was designed to serve as an inspiration to the men and women of South Australia who carried on the pastoral industry under infinitely safer and more fortunate conditions. SA Memory, Foundation of South Australia 1800-1851, by featuring the composite image and show-casing details of the individual portraits within, draws attention to these individual characters from 1850-1859, providing an entree into the lives of the people and places of early northern and far northern South Australia.
Mora Studio appears to have begun operating in 1892: the alphabetical listing in the Sands and McDougall's South Australian Directory for that year has the following entry 'Mora (Brown, E 5 Botanic Ter, North Ter; Clayton, J 147 Grote St) the leading photographers, highest grade in portraiture 83 Rundle st Adelaide'. The following year they describe themselves as 'Vice-regal and leading photographers, 83 Rundle St Adelaide'. By the 1897 Directory they are described as 'Photographers and pictureframers'  and from 1900 to 1904 they are listed with additional premises at St Vincent St, Port Adelaide. It appears that they moved to 51a Rundle St in 1902 and subsequently to 49a Rundle Street. In 1931 the listing records them as 'High-class photographers at Moderate prices'; by 1934 the entry indicates Gilbert I Meller is the owner and 'Perfect portraits at popular prices. Day or Night' and in 1949 'Portraiture and Commercial Photography' with Meller's name. The entry for 1952 records the owners as Gilbert and Don Meller.
Further reading:
Cockburn, R Pastoral pioneers of South Australia 2 vols.  Adelaide: Publishers Limited, 1925-1927 ("Reprinted from the Adelaide Stock and Station Journal.")
Richardson, Norman A. The pioneers of the north-west of South Australia, 1856 to 1914 Adelaide: Libraries Board of South Australia, 1980
Robinson, J A century in focus: South Australian photography, 1840s-1940s Adelaide: Art Gallery of South Australia, 2007
Barrie, S 150th anniversary of professional photography in Australia, 12th December 1842 to 1992 : a historical retrospective [Morningside, Qld.]: S. Barrie, [1992]
Davies, A The Mechanical eye in Australia: Photography 1841-1900 Melbourne: Oxford University Press, 1985