Shipbuilding in South Australia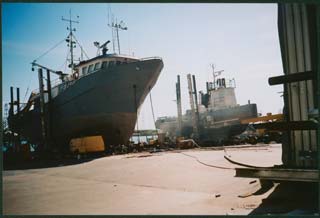 'Shipbuilding in South Australia has always been a 'stop-go' industry, with periods of progress interrupted by spells of stagnation' (Parsons p.157)
Introduction 
Political expediency and economic pressures influenced the industry heavily, particularly in the 20th century. The activity at the Whyalla shipyard mid-century was a high point for shipbuilding in South Australia, as was the winning of the submarine building contract by the Australian Submarine Corporation at Osborne in 1985, a success which has continued with the awarding of the Air Warfare Destroyer (AWD) Program to that company, now operating as ASC, in 2005.
Beginnings 
Shipbuilding began in South Australia before formal white settlement. In 1803, American whalers built the 30-ton Independence at American River on Kangaroo Island. This vessel was subsequently reported to be in Sydney. The South Australian Company which played a vital role in the founding of the colony of South Australia sent out with its first ships, a patent slip, together with a number of shipwrights. The slipway languished unused for many years, but the shipwrights found work repairing ships. In 1839 the cutter Frances was built at Encounter Bay and the schooner Jane Flaxman was launched at Port Adelaide. Other small vessels followed, with 3 or 4 being built a year; some of these would eventually operate in the Sydney/Newcastle coal trade.
A perennial problem for South Australian shipbuilders was the lack of suitable timber: much was imported from the other colonies, in particular Tasmania and New South Wales. The Government Dockyard was operating by the 1850s and along with a shipyard at Goolwa was producing paddle-steamers and barges for the River Murray trade. This would be a distinctive feature of South Australian shipbuilding for decades, with many craft produced using red gum, with locally produced boilers and engines, and the shallow draught that was a requisite of the river boats.  Abraham Graham was one to do well out of river boat building. With his Patent Slip Company at Goolwa he was able to build a boat completely - hull, superstructure, engines and all fittings. He also provided a repair and maintenance service. River boats were built elsewhere along the river - at Langhorne Creek and Renmark, where the Chaffey Brothers moved Graham's plant when he sold out to them in 1886.
Meanwhile at Port Adelaide in 1843 HC Fletcher installed the patent slip brought out to the colony by the South Australian Company and virtually abandoned. He built his yard at Birkenhead and it was a feature there for many years.  His business was at first ship repair rather than building. In 1863 he began the installation for another slip which he had ordered from the Dunnikier Foundry in Scotland. Due to difficulties at the site, the slipway took four years to install. The first ship drawn up on this slip was the Edinburgh of 1500 tons. Later HC Fletcher added shipbuilding to his yard's program.