Chronological list of shipwrecks continued
1890
18 January barque Glenrosa ran ashore in heavy fog a little east of Cape Banks. Efforts to refloat her failed and subsequent heavy seas battered her to pieces. The cargo was salvaged and auctioned for £220; the hull fetched £180. The captain was found guilty of careless navigation and lost his certificate for 18 months. 14 June SS You Yangs was lost on Pelorus Reef on Kangaroo Island. Carrying railway iron and flour for Sydney, some of the iron which was stowed on deck shifted, causing her to list. In trying to reach Adelaide she struck the reef.  All her crew were saved, and some cargo salvaged. 2 February steamship Paringa was lost, but there were no casualties. In July ketch Ruby disappeared between Salt Creek and Adelaide.
1891
Barque Glamis ran aground at Kingston, but was towed free and salvaged by the tug Yatala.
1892
6 March wooden ketch Enterprise sprang a leak and foundered off the Althorpe Islands. The crew abandoned her. 23 June ketch Lotus was wrecked at Port MacDonnell while loading potatoes. The lifeboat rescued the crew. 19 July fishing boat Welling was lost near Althorpe Islands.
1893
7 September steamship Hazel Branch was wrecked between Cape Jaffa and Rivoli Bay. 23 December SS Tenterden ran onto Breaksea Reef west of Port MacDonnell, after the captain mistook his bearings. Heavy seas broke over the ship and the decision was made to abandon her.  Unable to refloat her, all fittings and equipment were removed. The captain's certificate was suspended for three months.
1894
In March the fishing boat Golden Hope was lost at Red Banks, Nepean Bay, Kangaroo Island. 1 September iron ship Aeolus, in ballast for Sydney from Cape Town struck Agnes Reef, an outcrop of the Carpenter Rocks off Cape Banks. The reef ripped away the iron plates on her port side and she filled quickly with water. All crew reached the shore safely and the ship went to pieces rapidly. The captain's certificate was suspended for six months. 3 November fishing boat Polly was lost near Cape Jervis.
1895
14 September 12 ton steamer Kingston was blown ashore at Port Caroline, south east coast; she was later determined to be beyond repair. 16 December yacht Banshee was lost at Wallaroo.
1896
4 July yacht Capella was wrecked at Wallaroo after dragging her anchor in a storm.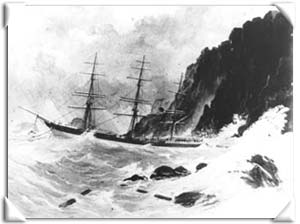 1897
May, sailing ship Duncow had a near miss off Cape du Couedic, Kangaroo Island. Laden with 1,200,000 super feet of mining timber from NW America, she dropped anchors to ride out a storm. Threatening to run aground, the captain and crew abandoned ship, and eventually made shore.  Tug Yatala was sent from Adelaide, collected the crew and went on to effect salvage. Duncow was found riding safely at anchor. The crew were placed back on board, and Duncow made her destination at Port Pirie on 5 June. 3 August cutter Edith struck rocks off Spilsby Island in the Sir Joseph Banks Group, Spencer Gulf. She became a total wreck.
1898
20 February iron barque Candida ran ashore on Wardang Island. Refloated 10 April she was found to be too badly damaged to repair and was converted to a coal hulk. 9 May wooden barque Excelsior ran ashore off Salt Creek. Refloated and taken to Port Adelaide for repairs, the cost of this was found to be so high she was converted to a hulk. 14 May schooner Ariel was wrecked on Wedge Island, Spencer Gulf after dragging her anchors. 14 June cutter Stranger broke her moorings at Wedge Island and went ashore. The four crew members were crossing to the mainland in the dinghy when rescued by the ketch Eliza.
1899
20 January yacht Alice was wrecked at Brighton. 10 March ketch Three Sisters was wrecked at Lipson Cove, Eyre Peninsula. 24 April iron barque Loch Sloy was wrecked in Maupertius Bay on Kangaroo Island. Only four men made it safely ashore, to scale steep cliffs before they could even begin to get help. Crew member McMillan left to find assistance, but after three days he had not returned, and the remaining three men decided to try and reach Cape Borda lighthouse.  McMillan returned and finding the others gone, again set out for help, this time finding the May family, one of whom rode to the lighthouse where a search was organised.  Only three of the four men who reached the shore survived; all others aboard Loch Sloy perished. 8 July schooner Maid of Australia was wrecked on the western side of Wardang Island. 8 September wooden schooner Lucretia was wrecked on a reef off Spilsby Island in Spencer Gulf. The crew of five reached safety. 2 November ketch Young Surveyorsprang a leak and sank near Long Spit Buoy, en route to Port Adelaide.