Chronological list of shipwrecks continued 
1931 No wrecks this year 
1932
9 April auxiliary ketch Vivid was lost without trace in a storm near Point Bolingbroke between Tumby Bay and Port Lincoln. 20 April 4-masted steel barque Hougomont was dismasted 800kms south of Cape Borda, Kangaroo Island. She reached Port Adelaide 19 days later. The ship was condemned, and subsequently towed to Stenhouse Bay and sunk as a breakwater. 6 June the remains of the 2526 ton 6-masted schooner Dorothy H. Sterling were towed to the North Arm of the Port River where she was broken up for firewood. The dismantling of the ship had begun in 1929 after her arrival with a cargo of timber from the United States. Unable to pay crew wages, the owners abandoned the ship and no bids were made at an auction.  Harbors Board began dismembering her - her lower masts were used as fenders at Outer Harbor, and some timber in the construction of Ocean Steamers wharf; some was used in the construction of a pier at Silver Lake, Mylor and in a coastal steamer Moorara. 8 July cutter Vectis sprang a leak and was run ashore near Dashwood Bay, Kangaroo Island. Salvage attempts were unsuccessful. Sometime in 1932 auxiliary wooden schooner Fides was broken up in the Port River due to the economic depression. Her register was cancelled March 1933.
1933
26 August cutter Minnie Sims ran ashore near Cape Willoughby, Kangaroo Island. She broke up quickly, but no lives were lost.
1934
20 March barque Pam was lost south of Kangaroo Island. 7 October twin screw steamer Victoria struck rocks near Porpoise Head, east of Cape Jervis. Three tugs failed to refloat her, so the vessel was abandoned.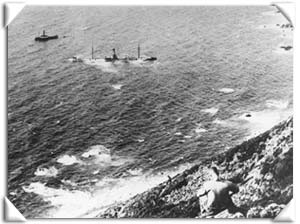 1935
20 March Portland Maru struck an unidentified object off Cape Torrens, Kangaroo Island.  It attempted to reach Port Adelaide, but began settling heavily in the bow. She was beached west of Cape Torrens, and the crew transferred to a tug. The ship quickly began to break up. The accident may have been the result of faulty loading which caused the ship to develop a list.
1936
21 February ketch Trix sank at Port Adelaide. 22 June 3148 ton steamship Era was stranded for three days near Kingston before being refloated.
1937
8 May auxiliary ketch Heather Belle was destroyed by fire at Wallaroo. 19 September cutter Rapid wrecked on Althorpe Islands. 5 October ketch Lady Flinders was lost at Flinders Island, off Eyre Peninsula. 20 October cutter Albatross was lost at Wedge Island. 21 December ketch Stormy Petrel struck a reef near Cape Cassini on Kangaroo Island.
1938
29 March fishing boat Janet was lost near Cape Cassini, Kangaroo Island. 8 May fishing boat Stella was swept onto rocks near Cape du Couedic and lost. June motor launch Glenelg was lost at Rapid Bay.
1939
Tug Robbie Burns was lost near Corny Point, Yorke Peninsula. October cutter Elsie was lost near Carrickalinga. 27 November Vixen sank off Droughty Point - one crew member drowned.
1940
7 December freighter Hertford hit a mine laid at the entrance of Spencer Gulf. Temporary repairs were made at Port Lincoln, and at Port Adelaide, with permanent repairs completed in Sydney in November 1941. Hertford was torpedoed and sank on her return voyage to England 29 March 1942.
1942
7 January cray boat Winnie was damaged in heavy seas and run ashore in West Bay, Kangaroo Island. 5 September ketch Free Selector was wrecked on the breakwater at Outer Harbor. 13 November SS Kapara ran onto a reef of the south eastern corner of Flinders Island and was badly holed. She was abandoned by the crew.
1943
5 March cutter Stormbird struck rocks off Kangaroo Island, was run ashore and abandoned.
1945
19 August coal hulk, former iron barque Santiago was abandoned in the North Arm of the Garden Island Ship's Graveyard. Built in 1856 in Scotland, in 1901 she transported coal to Port Adelaide from Newcastle, NSW, and was then converted to a hulk. Ketch Thomas and Annie, built 1874 in Tasmania was abandoned in the Garden Island Ship's Graveyard, after a long and colourful career spent mostly in the South Australian gulfs.