Chronological list of shipwrecks continued
1908
12 January motor launch Triton burned off Victor Harbor. 20 March Sir Wilfred Lawson a wooden ketch of 41 tons was lost at Port Moorowie. 30 April wooden ketch Seale built in 1851, was burnt at Torrens Island. 4 December Robert Burns, a wooden schooner built in 1857 ran aground in Nepean Bay and was a total loss. She carried a cargo of copper ore and timber. 12 December SS Ellen went ashore near Cape Jervis and was a total loss.
1909
31 January 3596 ton Clan Ranald listed during high seas off Yorke Peninsula and despite efforts to bring her head into the wind and sea, she eventually sank. 40 crew, including the captain were lost. An inquiry revealed that coal which had been placed on the deck when a fire broke out in the bunkers had remained there and may have contributed to the accident. The wreck is protected under the Historic Shipwreck Act. Hulk Excelsior sank at Outer Harbour. 1 April three masted wooden schooner Monarch 132 tons, ran aground near Cliff Point, Wardang Island. She filled with water and broke up. 3 October wooden schooner Dianella ran ashore in Moonta Bay in rough weather. She had sprung a leak and the pumps were unable to cope with the water. Most of her cargo of wool and ironstone were salvaged.
1911
5 January steamship Everton Grange ran aground at Kingscote but was salvaged. 13 January SS Time of 2575 tons gross struck a reef near Beachport. Her distress rockets were unanswered, so a boat crew sought help in Beachport. SS Somerset and SS Kyarra managed to save some of the crew, and the lifeboat finally arrived to complete the rescue. 28 January Flinders 948 ton iron steamship was burnt in the Port River. She was later dismantled and moved to the North Arm and beached at Garden Island. 13 June fishing cutter Brothers lost at Cape Cassini, Kangaroo Island. 10 November 3 masted iron barque Margit loaded 23000 bags of wheat at Victor Harbor preparatory to sailing to the United Kingdom. The master went ashore to arrange for a pilot, but disappeared - his boat was found upturned on the shore. A new master was obtained and the Margit sailed, but ran ashore on the Coorong the same day. Heavy seas delayed the crew getting ashore. Rocket equipment enabled the crew to land and they were rescued from the beach. A salvage company tried unsuccessfully to refloat Margit but failed. Valuable fittings were stripped and she was abandoned. 11 November wooden ketch Wilpena foundered off Point Jarrold, Yorke Peninsula. 16 December ketch Annie Elizabeth stranded near Minlacowie jetty and later abandoned as a total loss.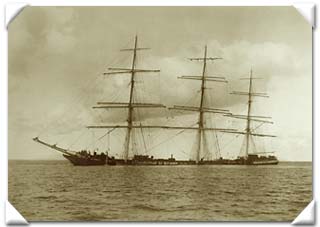 1912
14 April iron ship Songvaar sat on her anchor at her mooring at Port Victoria. She had loaded over 40,000 bags of wheat. Several salvage attempts were made unsuccessfully and she was subsequently sold for £210. Songvaar was later blown up and demolished as she constituted a shipping hazard. 8 May iron steamer Australian struck a reef off Wardang Island, and quickly became a total wreck. Captain and crew abandoned her quickly fearing a boiler explosion. 17 November 1887 ton sailing ship Dimsdale struck the Wonga Shoal lighthouse of Semaphore and destroyed it. The two lighthouse keepers were killed, but the Dinsdale was unharmed.  A lightship was temporarily placed at the site until a new lighthouse could be erected. 17 December sailing ship Chateaubriand was wrecked at Sturt Bay, Troubridge Hill.
1913
7 March the French barque Jean Bart was stranded on the west side of Wardang Island. She was refloated, after having been abandoned to the underwriters. 12 March General de Sonis dragged her anchors and ran ashore at Port Victoria. In addition to her own crew she was, at that time also carrying Jean Bart's. General de Sonis was refloated. 13 March schooner Albatross struck Eclipse Reef near Port Victoria during a storm. The crew was saved. 23 March steamship Port Caroline struck Port Pirie wharf. 24 October steamship Paringa was beached and struck rocks at Murat Bay, near Ceduna.
1914
13 January steamship Ferret was damaged at Port Elliston (see 1920 for more information on Ferret) Late January iron bucket dredge Posidonia disappeared en route to Fremantle from Port Pirie. An extensive search of the Great Australian Bight found no trace of her or her crew of 22.
1915
26 July fishing cutter Vera was lost near Cape du Couedic, Kangaroo Island.
1917
3 February 4-masted schooner Kona, with a cargo of timber from San Francisco struck Scraper Shoal in Backstairs Passage. The crew escaped by boat, but Kona broke up rapidly. 9 February iron ketch Success was lost at Troubridge Hill. 6 April wooden ketch Lillie Hawkins dragged her anchors at Port Gibbon, south of Cowell. She ran ashore. The crew landed safely. 9 July tug Nyora with an American schooner in tow from Port Pirie to Sydney, foundered in heavy seas off Cape Jaffa. The light keeper on Margaret Brock Reef rescued the captain and a seaman. 10 November wooden ketch Ina was wrecked on Sibsey Island, Spencer Gulf. 3 September auxiliary schooner Minnie A Caine was wrecked at Port Adelaide.
1918
24 April iron steamer Investigator went ashore on south western coast of Wardang Island. She quickly broke up in a storm that developed within days. The crew and passengers reached Port Victoria in a ship's lifeboat. 3 September wooden schooner Malden Lewis was beached and destroyed at Stenhouse Bay.