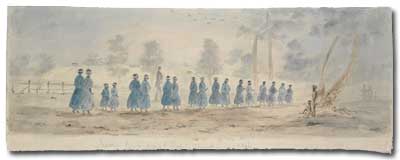 The British colony of South Australia was a social and religious experiment. It was the first of the Australian colonies which did not have a state church, espousing religious equality and tolerance as a basic ethos. This made the colony attractive to those who had experienced religious discrimination in their homelands. Organisations such as the Protestant Emigration Society were founded to encourage the immigration of pious English Christians to the new land. George Fife Angas, the man who perhaps did most to see the colony established, hoped that South Australia would 'provide a place of refuge for pious Dissenters of Great Britain.' (Hodder, p. 239)
Although predominantly Christian, the founders of the colony believed that religious tolerance should extend to all religions. For this reason Jacob Montefiore - a Jew - was appointed to the National Colonization Society, and so had a hand in the establishing and financing of the colony. South Australia would have the first Muslim Mosque in Australia, and still has the oldest Mosque.
The first recorded Christian service took place on Kangaroo Island on 27 July 1836, led by Captain Robert Morgan of the Duke of York. The oldest church building in South Australia is Holy Trinity Anglican Church on North Terrace. Building began in 1838.
Despite the establishing principles which clearly separated church and state, Governor Robe introduced a government religious grant to churches in 1846. This was an unpopular move, and the parliamentary elections of 1851 were fought and won largely on the question of maintaining the earlier principles. The South Australian League for the Maintenance of Religious Freedom was an early lobby group working to maintain the separation of church and state.
In 1840 the Southern Australian newspaper recorded, 'of all the British colonies, South Australia stands alone. Party spirit and religious bickerings are things which have as yet been unheard of' (p. 281, col. c).
[Image: WA Cawthorne. Aboriginal girls going to Trinity Church, 1846, V/97. Reproduced courtesy Mitchell Library, State Library of NSW]
Hilliard, David and Arnold D Hunt. 'Religion', Flinders history of South Australia: social history, ed. Eric Richards, Netley, S. Aust.: Wakefield Press, 1986, pp. 194-234
Hodder, Edwin. George Fife Angas: father and founder of South Australia, London: Hodder and Stoughton, 1891
Pike, Douglas. Paradise of dissent : South Australia 1829-1857, London: Longmans, Green and Co., 1957
Southern Australian, 4 September 1840, p. 281, col. c