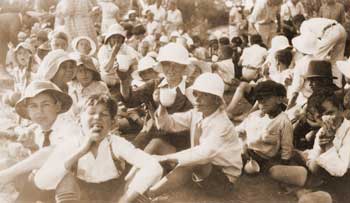 Religious groups have long recognised the need to train their young people in the faith, and to find ways to retain them as participating adult members. Methods of equipping the younger generation to take over central religious roles and to attract young people to ageing congregations, or to provide respectable alternatives to disruptive youth behaviour - in conjunction with education and social welfare providers - have been sought individually and collectively by religious organisations since the 19th century.
Several generations of parents viewed Sunday School attendance as a civilising influence on their children. Despite an ongoing decline in adult church membership, Sunday Schools boomed well into the 20th century. The 'Playford years' (1938-65) saw South Australia's population almost double through immigration and the 'baby boom' after World War Two. For churches the effect was a huge growth in Sunday School numbers, and new attempts at retaining and entertaining the new type of 'teenager' within the life of the church.
In the 19th century many young people's organisations were transplanted from England and Europe. The Adelaide Young Men's Christian Association (YMCA) was founded in 1850 as the first branch outside the UK. Like the later Young Women's Christian Association (YWCA), the intention was to provide places of respectable entertainment for young people, keeping them out of temptation. The original Bible study and prayer meeting style of approach was augmented by the 1880s with a strong focus on sport and physical activity, in a highly successful attempt to attract members. The Boys' Brigade and Our Boys' Institute catered to younger boys.
Christian Endeavour, a non-denominational church movement aimed at children and young people, was founded by an American Congregational pastor in 1881. The movement swept the world. Christian Endeavour societies were first formed in South Australia in 1891, and for many years attracted a huge membership - despite their strict membership rules requiring regular Bible study and church attendance. The Cambridge-based Student Christian Movement, a prolific publisher, flourished between the two World Wars and had an Adelaide branch.
In addition to local branches of national and international youth movements, individual churches and groups had their own clubs, ranging from the Adelaide Jewish Young Men's Improvement Association through to local church youth groups and children's clubs.
Rituals such as confirmation and Bar Mitzvah mark an official progression from child to adult in the practices of religions, but do not guarantee ongoing involvement. Churches sought to provide in-house organisations as a means of retaining and nurturing their young people. The Lutheran Church had some success with its Luther League from the 1930s. Like other denominations, there were state and national conventions and synods. Worship services geared specifically to the tastes of young people, using contemporary music and experimental liturgy, became popular from the 1960s. The Rock Mass established by Sister Janet Mead in 1972 at St Francis Xavier's Cathedral regularly drew large crowds.
Like other aspects of religious life, youth work has many facets. The 'rescue' of troubled or endangered youth, and converting them to Christianity, was a typically 19th century view of the mission work of the church. In the 20th century church organisations have worked with young offenders, those with addictions, and underprivileged young people as part of their overall approach to social welfare.
Maunders, David. Keeping them off the streets: a history of voluntary youth organizations in Australia 1850-1980, Coburg: Phillip Institute of Technology, Centre for Youth and Community Studies, 1984
(Image:Photographer unknown. Thompson Memorial Sunday School Picnic, 1934, B 50189)