'Oh God thou knowest best, but it is a hard trial to lose so bright, so good a child … Oh! Ethel may I live such a life that hereafter I may meet with thee in Heaven!'
Diary of Grace Marryat, January 1865
With the higher likelihood of death through childbirth - the most frequent cause of death for women until well into the 1930s - and coming to terms with the high incidence of children's deaths, women have tended to draw particular comfort from their religious beliefs, and were even seen as being closer to God due to the precariousness of their lives. As the most influential teachers of their own children, they have also played a major role in handing religion on to further generations.
It has also often been women who were attracted first, and in significant numbers, to new movements in religious thought. Large numbers of working class women were attracted to Methodism and the other dissenting religions which sprang up in Britain during the Napoleonic Wars. Many of these groups gave greater authority to women than the traditional churches, producing preachers such as Serena Thorne and Winifred Kiek. The late 19th century 'movement of the mind' saw an increased interest in alternative beliefs such as Unitarianism, theosophy and Christian Science. This was also particularly embraced by women - prominent among them Catherine Helen Spence and Agnes Benham. These organisations offered opportunities for women to preach and even to lead congregations.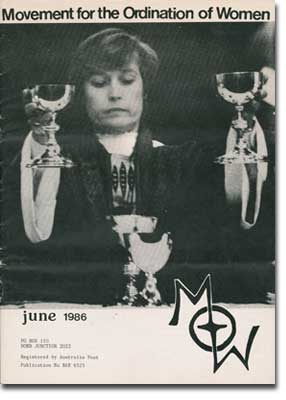 The earliest and largest women's organisations in Australia were religious organisations. The two major groups were the Anglican Mother's Union and the Methodist Women's Auxiliary for Foreign Missions, both founded in the 1890s. The Woman's Christian Temperance Union and the Young Women's Christian Association (YWCA) were other major (inter-denominational) women's organisations. Religion often enabled, or even caused, women to defy convention and these groups had firm political and social agendas.
The main source of labour for the church has been women. With low male attendance (for a variety of reasons), the churches needed women. Women carried out a vast and varied array of religious work, including teaching, fund-raising, visiting and charity work, as well as the more mundane tasks of cleaning, gardening and organising. Upper class women in the 19th century played major roles in establishing, financing and running charitable programmes. Many working class women became missionaries or nuns or moved outside of church circles and were influential in affecting social change, including women gaining the right to vote in South Australia in 1894. It has also frequently been the women who have been the artists creating much of the adornment and artwork in the churches and places of worship, from embroidery and painting, through to stained glass window and mosaic work.
South Australian women continue to be at the forefront of spiritual exploration. Through organisations such as the Multifaith Association, Sophia and the National Queer Spirituality Conference they are intimately involved in the ever-changing nature of religion and spirituality.
Jones, Helen. In her own name: a history of women in South Australia from 1836, Kent Town, S. Aust.: Wakefield Press, 1994
O'Brien, Anne. God's willing workers, women and religion in Australia, Sydney: UNSW Press, 2005
(Image: Movement for the Ordination of Women. Newsletter [cover], June, 1986)